HCM City to impose social distancing measures under PM's Directive 16 starting July 9
HCM City will apply social distancing measures under the Prime Minister's Directive 16 for 15 days starting 0am on July 9, said Nguyen Thanh Phong, Chairman of the municipal People's Committee.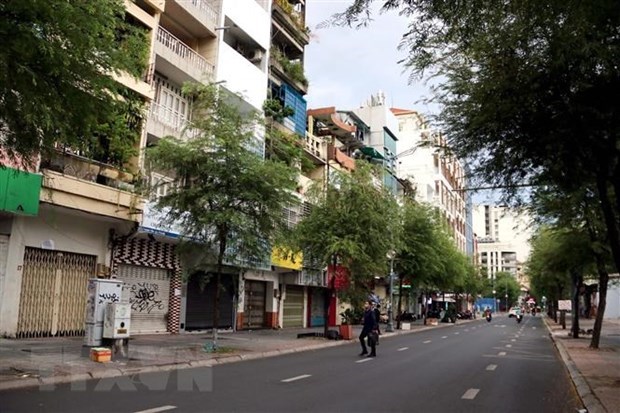 Le Thanh Ton street in Ho Chi Minh City's district 1
In accordance with the directive, people must strictly follow strict social distancing rules. They are asked to stay at home and only go outside for essential trips such as buying food and medicines, or emergency care. Essential good delivery services are allowed.
Phong affirmed that the city has enough supply of goods and measures to distribute goods, ensuring stability and meeting the needs of the people.
The city authorities have requested the suspension of public transport, technology ride-hailing services and traditional motorbike taxis.
The Department of Health was asked to deploy a treatment plan for 10,000 -20,000 COVID-19 infected cases.
According to a report by the department, from April 27 to 6pm on July 7, the city recorded 8,151 coronavirus infections in the community, including 45 deaths. The city is currently treating 7,118 patients.
HCM City ready for citywide social distancing amid pandemic complexities
Ho Chi Minh City has geared up plans to ensure that people's life will not be affected once citywide social distancing is imposed, Chairman of the municipal People's Committee Nguyen Thanh Phong told a videoconference on July 7.
At the meeting with standing members of the National Steering Committee for COVID-19 Prevention and Control, Phong said 107 sites in 22 districts of Vietnam's most populous city have been put on lockdown in the fourth wave of outbreaks.
He noted that among the 7,450 infection cases confirmed by the Ministry of Health, 82 percent are recorded in quarantine sites or sealed-off areas, 4 percent found via screening tests in the community, about 13 percent detected via screening at hospitals, and nearly 1 percent are imported cases.
The pandemic's complexity, high population density, and economic vibrancy are posing numerous challenges to HCM City in the disease combat, he said, adding the local administration held that it is necessary to take more drastic and stronger actions while sacrificing short-term interests to guarantee long-term development and safety for people.
To keep people's daily life stable, municipal authorities are working to increase goods supplies for modern distribution systems and activate the market stabilisation programme, the chairman said.
The city has also finished examination and arrangement for 43 enterprises with 56,000 employees to concurrently carry out quarantine and sustain production activities in export processing, industrial, and hi-tech parks as in line with Ministry of Health's guidelines, according to Phong.
Deputy Minister of Transport Le Anh Tuan asked HCM City and other localities to ensure smooth transportation of goods while Deputy Minister of Health Do Xuan Tuyen urged the southern city to seriously carry out social distancing measures in each family and each residential area.
At the meeting, Deputy Prime Minister Vu Duc Dam, head of the national steering committee, told the city to continue preparing for higher-level social distancing and make stronger moves to curb the outbreak sooner but still guarantee people's life.
Source: VNA

Ho Chi Minh City, Vietnam's busiest and most populous locality, is expected to extend social distancing which was imposed a month ago as the number of newly detected cases has increased considerably these days.

Despite drastic measures, the Covid-19 outbreak developments in HCM City remain complicated. The enforced social distancing period will end on June 30 and it has been difficult for the city to decide whether to extend the period.