HCM City strengthens HIV prevention efforts, hopes to end transmission by 2030
HCM City will continue to strengthen HIV preventive efforts with tests for early detection and treatment among high-risk groups to help achieve the national goal of eradicating the spread of the disease by 2030.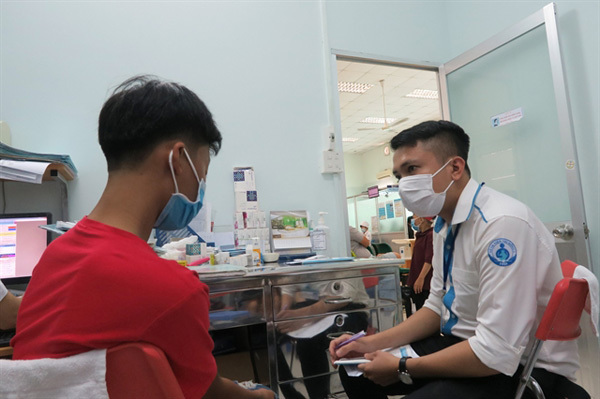 An adolescent with HIV being treated at HCM City Children's Hospital 1. 
It is also providing comprehensive HIV/AIDS prevention services, especially to vulnerable and high-risk groups.
One other goal of the city's programme on HIV/AIDS prevention is to prevent discrimination against people with HIV.
The city identified its first HIV patient in 1990, and monitored her health regularly since and treated her with antiretroviral (ARV) drugs.
Now 60, the unidentified woman remains relatively healthy and is being treated at the Hospital for Tropical Diseases.
Citing her example, doctors point out that if people with HIV are diagnosed and treated early, and they comply with the treatment regime, they could lead a long life.
Nguyen Huu Hung, deputy head of the city Department of Health, said since the first case was detected, the city had spent 30 years fighting the epidemic.
In 1990-2000 the city strengthened communication to educate and improve public awareness of protection against HIV/AIDS and creating prevention models.
As a result, the rate of transmission among injecting drug users fell from 42.3 per cent in 1995 to 18.6 per cent in 1998.
In 2000-10 HIV transmission prevention models were expanded throughout the city with ARV therapy.
The city also has programmes for prevention of mother-to-child transmission to help significantly reduce transmission.
In 2010-20 the city controlled the epidemic through a number of strategies such as immediate treatment after testing positive, breakthrough in policies and technologies for HIV tests and pre-exposure prophylaxis (PrEP).
A 24-year-old gay man in Thu Duc District is availing PrEP to prevent the risk of HIV transmission, and said he felt assured.     
The city has more than 30 public and private facilities under the programme.
It has achieved the 90-90-90 goal, meaning 90 per cent of those living with HIV know their status, 90 per cent are receiving treatment and 90 per cent on treatment have viral suppression which stops further transmission.
It has 145 facilities for HIV counselling and testing, with 24 of them providing methadone treatment to nearly 5,400 patients. 
Challenges
However, speaking at a conference held last week to review 30 years of HIV/AIDS prevention, Hung said the city unexpectedly had nearly 5,500 people living undetected with HIV in the community, leading to a high risk of transmission.
Besides, an increase in the number of men who have sex with men raises the risk of outbreaks, and risk groups are changing, becoming difficult to access and demand high confidentiality, and this is also a big challenge, according to Hung.
Doctors also warn about the high risk of HIV transmission among male adolescents who have sex with men.
Pham Thi Lua, a social worker at Children's Hospital 1, cited the case of a 15-year-old boy who was found to have HIV while being treated for genital warts.
He had sex with an older man who rents a room near his house.    
Dr Du Tuan Quy, acting head of the hospital's infectious and neurological diseases department, said four or five 14- and 15-year-olds last year came to the department for HIV treatment after having sex with men.
"It is alarming," he said.  
Moreover, many boys were sexually abused and did not even know their infection status, he lamented.
When they did know their status, they did not dare tell their parents, and this was further cause for worry, he said. 
His department is treating 57 HIV patient who are more than 15 and 226 others aged just 10-15, and they could easily spread it if they have unsafe sex, according to the doctor.
At these ages psychological and biological changes occur to people, and, compared to people of other ages, are more sensitive and rebellious. So, when they know they are infected with HIV, they often fall into a negative mood and live irresponsibly. 
Many say their parents died of HIV and so they themselves have no hope of living, become depressed, act indiscriminately like having unprotected sex, and transmit it to their partners.
He said the family should play an important role in helping detect HIV infection in adolescents by paying attention to symptoms of health problems and taking them for examination.
In the unfortunate case that their child is infected with HIV, parents need to be calm, accompany their children for treatment as prescribed by the doctor and avoid creating stress thus resulting in the patient stopping treatment, he said.
According to Ministry of Health statistics, the number of people with HIV in the ages of 15-16 tripled in 2019 from 2011.
Quy said the Children's Hospital 1 had collaborated with the Centre for Diseases Control and Prevention and others to organise training courses in counselling for HIV prevention and in psychological and biological issues for adolescents with HIV.
It also worked with vocational training schools to train adolescents with HIV.  
Assoc Prof Dr Pham Duc Manh, deputy head of the Vietnam Administration of HIV/AIDS Control, said the city was a "bright spot" in the country in mobilising the political system and society in HIV/ AIDS prevention and control.
It had carried out prevention and fighting efforts well and pioneered initiatives in treatment and prevention, he said.
It had also obtained and used donations effectively, he said.
But with its high population density, the city still faced many challenges like the increase in HIV/AIDS infections in the MSM community and the high rate of new incidence each year compared to other localities in the country, he warned.
Therefore, it should have the right strategies for each risk group and continue to solicit social resources, especially people with HIV, to persuade infected people to go for treatment and high-risk groups to avail of preventive services. VNS
An estimated 5,500 people living with HIV in the community have yet to be identified in Ho Chi Minh City, with about 30 percent having high viral load rates that are potentially transmitting the virus to others.

Associate Professor Nguyen Hoang Long, Director General of the Vietnam Administration for HIV/AIDS Control, talks about the country's fight against the virus over the last 30 years.