HCM City's climate to worsen by 2050

Ho Chi Minh City's climate and hydrodynamics are extreme and are expected to worsen by 2050, according to a report recently released by the Asian Development Bank (ABD).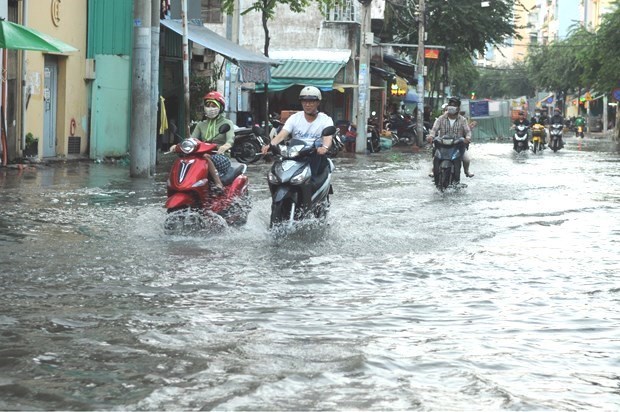 Storms, storm surges and tidal flooding in Ho Chi Minh City are expected to become more severe, says a Asian Development Bank report.
The report says HCM City ranks among the among the top 10 cities in the world with populations most likely to be severely affected by climate change. By 2050, millions of its citizens will be at increased risk from regular and extreme climatic events such as floods, droughts and tropical storms.
Storms, storm surges and tidal flooding are expected to become more severe, it says. The southern hub is affected by about 10 percent of all storms that hit Vietnam. On these occasions, associated storm surges cause considerable flooding. Damage costs from natural disasters over the last 10 years have been estimated at 202 billion VND (12.6 million USD).
Between 1997 and 2007, most districts in the city were directly affected by natural disasters. Most of the damage was concentrated in the vulnerable rural districts of Can Gio and Nha Be, near the mouth of the Dong Nai River.
Projected warmer sea surface temperatures in the East Sea will intensify storms landing close to HCM City. Tropical storms and typhoons are also expected to strike the country's southern region more frequently and are thus more likely to hit the city directly.
Rising sea levels will become an important factor, incrementally heightening the effects of storm surges. The rise in sea levels will be likely to hit 26cm for the high-emission scenario and 24cm for the low-emission scenario – significantly affecting the inland reach of tidal flooding and storm surges.
The report adds that climate change has been more rapid than previously anticipated, with potentially severe effects on HCM City. But there is still time to develop appropriate solutions and to adapt.
Detailed adaptation planning is the key to a resilient HCM City. All sectors and areas will have to consider the impacts of climate change in their development plans, and will require adaptation plans and guidance.
Balance in adaptation actions is required, with engineering options being complemented by natural system rehabilitation, economic and social policies and programmes, and integrated urban planning to provide the "one area, one plan" framework for development in the city.
Many of these measures are already being implemented across the city, but they will need to be adjusted, intensified and applied in a coordinated way in the context of climate change. A comprehensive city adaptation plan should provide the operational framework for detailed planning and adaptation measures in each sector and location./.VNA

Dutch experts have proposed building dykes to control flooding in HCMC's districts 2 and 9 at a total estimated cost of US$1.2 billion, said HCMC Party Committee Secretary Nguyen Thien Nhan.

Many areas in HCM City will be flooded due to high tide on October 28-29.

The flood season in the Cửu Long (Mekong) River Delta is a natural phenomenon that occurs each year on the downstream Mekong River.