HCM City recommends 7-day mandatory quarantine for COVID-19 patients
The HCM City Department of Health has sought permission from the Ministry of Health for a seven-day quarantine period for fully vaccinated and asymptomatic cases with negative COVID-19 test results.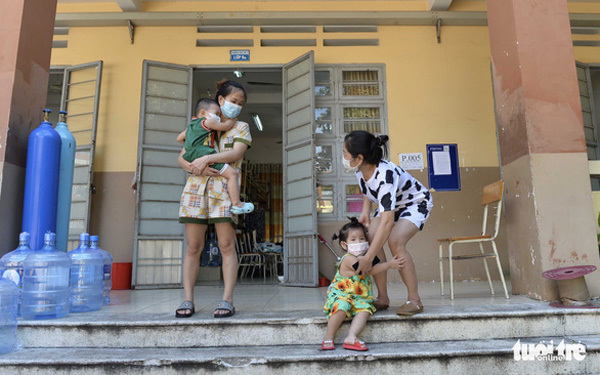 People with COVID-19 at a quarantine facility in HCM City's Binh Chanh District. Photo tuoitre.vn
The move aims to reduce overloading at government-run concentrated quarantine areas amid a slight increase in new cases in most districts in the city. People with positive COVID-19 test results are currently under a 14-day quarantine.    
The daily new cases recorded in the city has exceeded 1,000 cases over the past two weeks, according to the city's COVID-19 Information Portal.
Tang Chi Thuong, director of the department, said in the document recommending the proposal, that the rise in cases could result in overcrowding at quarantine facilities and hospitals.
Many people with COVID-19 who are asymptomatic or have mild symptoms receive a negative test result on day seven, but they are still required to continue quarantine until day 14.
Truong Huu Khanh, an epidemiologist at the Children Hospital No. 1 in HCM City, said a reduction of the quarantine time for fully vaccinated and asymptomatic persons who receive a negative test on the seventh day could help reduce the public healthcare burden.
With limited medical human resources, it is of great importance to focus on treatment of severe COVID cases to save their lives, Khanh said.
Ass. Prof. Do Van Dung, head of public health department of the HCM City University Medical Centre, said the recommendation was completely appropriate to the current situation of the pandemic in the city.
The recommendation, if approved, would benefit pandemic prevention efforts, reducing the financial support needed for quarantine and treatment of COVID-19 patients.
The three criteria – asymptomatic, fully vaccinated, and negative test result on day 7 - must be met to reduce the duration of quarantine, Dung said.
The usage of the antiviral drug Molnupiravir had shown effective results for treatment of COVID-19 patients and prevention of transmission, he said.
Seven-day quarantine periods should be applied to those using Molnupiravir and 10-day periods for those taking other drugs, he added.
More than 99 per cent of the city's population aged 18 and above have received one vaccine dose while 83 per cent have received two doses.
Around 95 per cent of people aged 12 through 17 have had one shot.
Source: Vietnam News

COVID-19 patients in HCM City who do not meet the criteria for home quarantine will be allowed to stay at a designated quarantine facility in their local area or at their company,