HCM City hospital removes woman's spleen with 5kg tumour

Doctors at HCM City's Thong Nhat Hospital have successfully performed a surgery to remove the spleen of a 29-year-old woman who had tumours weighing 5kg inside it, the hospital said in a press release on Wednesday.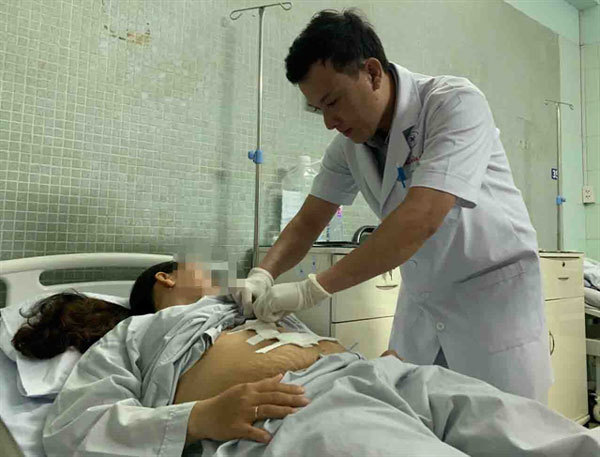 A doctor at HCM City's Thong Nhat Hospital examines the 29-year-old woman following surgery to remove her spleen which had contained tumours weighing 5kg. — Photo courtesy of the hospital
The patient from the southern province of Tien Giang was brought to the hospital with abdominal pain and non-cancerous tumours in her spleen.
Doctors found the tumours weighed 5kg and measured 0.5m.
They prescribed surgery to remove the enlarged spleen to ensure it did not block other organs.
Dr Nguyen Xuan Hoa of the hospital sais if the surgery was not performed, the tumour could rupture and pose a threat to her life because of bleeding in the abdomen and infection.
Now the patient needs to be monitored carefully since the spleen plays an important role in the body's immunity against diseases, he said, pointing out anaemia is another risk.
Nearly 0.5 per cent of the country's population suffers from spleen tumours, but this was a very rare case, he said.
The tumours are usually benign and congenital and can be detected using ultrasound and treated at the early stage, he said.
But many also get them because of trauma or parasite infection, he said, adding the tumours often have no symptoms.

Lately, surgeons of the Hanoi-based 108 Military Central Hospital have performed weight loss surgery (also called bariatric surgery) to help very overweight people.  
VNS