HCM City has several chains of Covid infections with unknown sources
In addition to the outbreak related to the Revival Ekklesia Mission, Ho Chi Minh City has recorded new infection chains at apartments, a mechanical workshop and a hotel, with unknown sources of infection.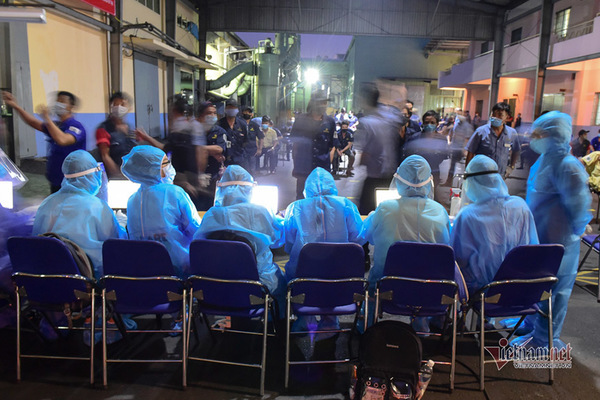 Health workers take samples for Covid tests for workers in an industrial park in Ho Chi Minh City. Photo: Thanh Tung.
At a meeting of the Ho Chi Minh City Steering Committee for Disease Prevention and Control on June 11, Director of the Ho Chi Minh City Department of Health Nguyen Tan Binh reported that by the morning of June 11, the city had 837 Covid-19 patients, including 595 locally infected cases and 238 imported cases.
Related to the outbreak at the Revival Ekklesia Mission, which was discovered on May 26, were 441 cases as of June 11. This outbreak has spread to 21 of 22 districts, Thu Duc City, and many other provinces. The city has discovered transmission chains at offices, residential areas, schools and restaurants that are linked to Revival Ekklesia Mission.
Notably, in the chain of infectiond related to the Revival Ekklesia Mission, four patients work in four industrial zones in the city. Thanks to early detection and measures to prevent the spread, the city has not recorded any more cases related to this so far.
Binh said that the infection chains related to the Revival Ekklesia Mission have been basically controlled.
Binh noted that in recent days, the city found 48 Covid-19 patients through screening at hospitals and clinics. However, the sources of infection of these cases have not been identified yet, so the city is continuing to investigate.
According to Binh, the epidemic situation is developing unpredictably, so the city will continue to take strict measures to control the epidemic, especially in industrial parks and export processing zones.
In the coming time, the city will expand Covid testing, especially for those who have close contacts with infection chains.
Binh called on local people to fill out their medical declarations and strictly follow the 5K rules issued by the Ministry of Health.
Ho Van - Tu Anh

Vietnam might reach the 'finish line' – vaccination and herd immunity – later than Europe and the US by five to six months, but it would prefer to go slowly and carefully.