HCM City faced an unprecedented epidemic this year
HCM City has had more than 11,000 hospitalized Covid-19 patients and more than 2,000 deaths per week in the fourth Covid-19 wave that began in late April. Dozens of field hospitals were established and all of them were overloaded.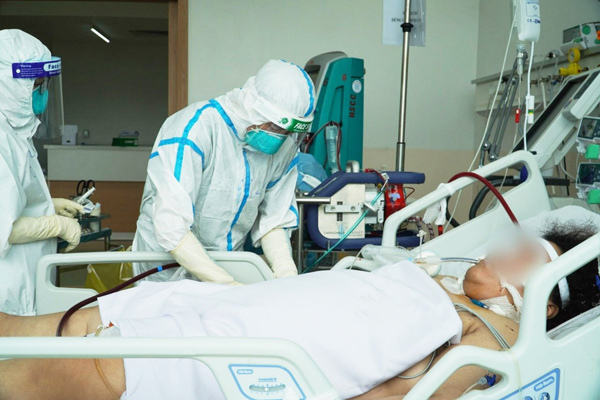 Speaking at the 3rd session of the People's Council of Ho Chi Minh City on October 19, Dr. Tang Chi Thuong, Director of the local Department of Health, said that the city experienced a two-month peak of Covid-19.
In May 2021, the community infection index of districts across the city was at level 1, equivalent to fewer than 20 new cases per 100,000 people per week.
However, after only one week, it climbed to level 2. Every week, the number of new cases increased rapidly from 1,674 cases to 3,317, while the number of deaths rose from 7 to 20.
During this time, the city established two field hospitals with 900 beds. Nine hospitals were transformed into Covid-19 treatment facilities with 4,238 beds.
The city was under social distancing according to Directive 15 from May 31. However, the virus continued to spread widely. By June 7, the index of infection in the community moved up to level 3.
The director of the Ho Chi Minh City Department of Health said that this was the time when the epidemic broke out in most districts, with new infections per day exceeding 3,000.
The city started implementing social distancing measures under Directive No. 16 of the Prime Minister.
"The whole city focused resources, implemented measures and activities under the direction of the Government, the National Steering Committee for Epidemic Prevention and Control, and the guidance of the Ministry of Health in order to control the disease, protect people's health and lives," said Dr. Thuong.
However, it kept spreading very quickly. As of July 16, the epidemic situation in the city had hit level 4, with the number of hospitalized patients reaching 11,069 cases per week, and the number of deaths increasing rapidly every day.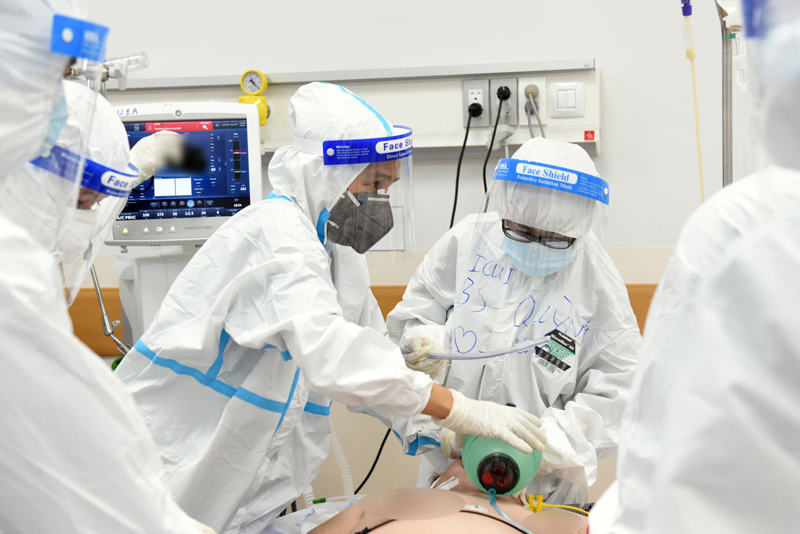 As many as 25 field hospitals were established and 54 hospitals were mobilized to treat Covid-19 patients, but all were overloaded. From August 18 to 24, the city recorded 2,105 Covid-19 related deaths (average 300 cases per day).
Within a month later, the city continued to establish seven more field hospitals.
In late August, the city had up to 17,403 new cases per day. The city had to care for 104,493 infected people, including 39,611 severe cases at hospitals, 47,920 infected people at home and 16,962 cases in isolated centers.
"During nearly two months from July 15 to September 15, Ho Chi Minh City experienced the peak of the epidemic, which has never happened in the history of the city," said Dr. Thuong.
From July 28, the city piloted a program to treat infected people with mild symptoms at home. This policy helped deal with the overloading at hospitals.
Dr. Thuong said the use of Remdesivir in treatment of Covid-19 patients helped reduce the moderate and severe cases.
Thanks to the government's policy of giving priority to vaccines to HCM City, 98.8% of people aged 18 and older in the city have received one dose of vaccine, and 76.3% two doses.
"After three weeks of implementing Directive 18, the epidemic situation in the city has changed in a positive direction," said Dr. Thuong.
The number of new cases and hospitalized patients per day has decreased. The number of severe cases and deaths has continued to decline for consecutive days.
On October 19, Ho Chi Minh City had 968 new cases, and a total of 28,070 people under treatment, including 11,531 cases at hospitals, 11,702 at home and 4,837 at isolation centers.
Linh Giao

The "travel bubble" model has been billed as a potential means for Ho Chi Minh City to recover its tourism sector, which has been frozen for many months.