HCM City extends social distancing order for two more weeks as COVID-19 outbreaks grow
Chairman of HCM City People's Committee Nguyen Thanh Long on Monday agreed to prolong city-wide social distancing in line with the Government's Directive No 15 until the end of June, amid developments of coronavirus outbreaks in the city.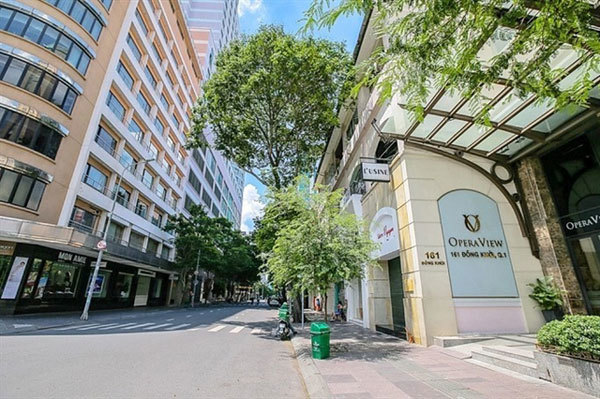 HCM City's downtown area is deserted as the city enforces social distancing starting May 31, 2021, to curb the spread of coronavirus. 
The order, imposed since May 31 following large outbreaks related to a Christian mission church and originally set to expire on Tuesday (June 15), has been extended for another two weeks (until midnight on June 30), as the city's leaders met on Monday to discuss the COVID-19 situation in the city.
Under the order, non-essential services and businesses in HCM City would continue to be halted, no gatherings of five or more in public outdoor areas are allowed, while people (especially 60 years old and above) are advised to stay home unless for essential purposes and should keep a distance of 2m during contact.
Go Vap District and Thanh Loc Ward of District 12, the initial epicentres of the outbreaks in the city and have been under more restrictive measures – in which people are ordered to not go out unless for essential purposes – since May 31, will also join the rest of the city under the Directive No 15 starting Tuesday.
HCM City Party Secretary Nguyen Van Nen said the city has used many measures and focused resources on battling the outbreaks but the cases are still increasing while the direct contacts to be quarantined keep going up, and not to mention the 'unknown' number of 'silent transmission' in the community taking place right now.
As of this morning, HCM City has logged a total of 819 COVID-19 cases since April 27, 2021, with the majority of cases recorded since late May, making it the third biggest coronavirus hotspot in Vietnam's fourth wave, following the two northern provinces of Bac Giang and Bac Ninh.
Health authorities are concerned as many clusters in the community of unknown source of infections have been discovered during surveillance screening or following hospital admission in recent days. 
Covid-19 spreads to all districts in HCMC
With a total of 845 Covid-19 cases reported in HCMC in the current fourth wave of the coronavirus, which began on April 27, all 21 districts and Thu Duc City in the city have been hit by the virus, while 335 areas have been put on lockdown.
Can Gio is the latest district to report a Covid-19 infection. The case in this outlying district was confirmed on June 13 by the Ministry of Health. In the current wave of coronavirus infections, HCMC is Vietnam's third largest coronavirus hotspot after Bac Giang and Bac Ninh.
To prevent the spread of the virus, the HCMC government decided at an anti-virus meeting this morning to extend citywide social distancing in line with the Prime Minister's Directive 15 for another two weeks.
Director of the HCMC Health Department Nguyen Tan Binh said that the Revival Ekklesia Mission infection chain in Go Vap District was basically brought under control, but the city had seen several new chains of infection emerging.
The HCMC Hospital for Tropical Diseases infection cluster was found on June 11 when an information technology employee tested positive for Covid-19. The number of infected employees at this frontline hospital for Covid-19 treatment, with a capacity of 550 beds, this morning rose to 55 after the hospital tested all of its employees from June 11 to 13.
Other clusters with unknown sources of infection were discovered at a manufacturing facility in Hoc Mon District, the Ehome 3 apartment compound with 14 blocks in Binh Tan District, Street 11 in Thu Duc City and Tan Thoi 2 Hamlet in Hoc Mon District, the local media reported.
Speaking at a meeting with Go Vap District on June 13, HCMC Vice Chairman Duong Anh Duc said that since Covid-19 was effectively controlled, the city would relax some anti-Covid-19 measures in Go Vap to ensure residents can gradually get back to normal life.
Source: Vietnam News/Saigon Times

Social distancing will be imposed in Ho Chi Minh City under the Prime Minister's Directive 15/2020.