HCM City encourages families to have three children as birth rate falls

HCM City is encouraging families to have three children as the birth rate has dropped to 1.33 children per women of reproductive age in the city, experts said.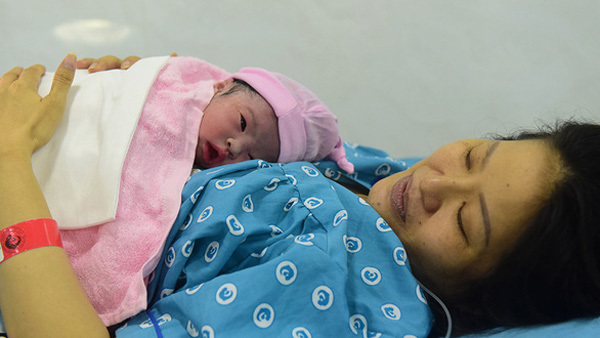 With a low birth rate of 1.33 children per family, HCM City is encouraging each family to have three children. Photo courtesy of tuoitre.vn
They voiced their concerns at a seminar on the causes and solutions of the issue in HCM City, organised by the HCM City Department of Population and Family Planning on Tuesday.
Deputy director of the city's Department of Population and Family Planning, Pham Thi My Le, said the birth rate in the city was low compared to the national replacement level of 2.1 children.
While the rate in 2000 was 1.76 children, it fell to 1.33 children 18 years later, placing HCM City on the list of 17 provinces and cities with the lowest fertility rate.
Such a decrease in the birth rate will eventually affect the proportion of young people and working adults in the future, while the amount of elderly people would increase, Le said.
Le explained that the pressure of life and work has resulted in late marriage, late childbirth, fewer children, and a growing reluctance to have children.
Parenting requires many resources, she said, adding that rapid urbanisation and economic development had put pressure on families to find jobs and accommodations.
It is important to note that improved living conditions and young people's tendency to move have had a certain impact on the low fertility rate.
Le Van Thanh, former head of the socio-cultural research department under the HCM City Development Research Institute, said that immediate measures should be carried out to tackle the matter or else the fertility rate will fall even more.
High living costs
The substantial amount of resources needed to raise a child has discouraged people to give birth, he said.
Nguyen Quang Viet Ngan, deputy head of the geography department at HCM City University of Social Sciences and Humanities, said birth-promotion policies had encountered many challenges. While the policy encourages each couple to have two children, many locals argue that it is difficult to have enough money to raise two children.
The cost of living in HCM City is the highest nationwide, putting enormous pressure on couples that decide to have two children.
In addition, women's workload in households remains heavy, Ngan said, adding that this has forced women to have no more than two children.
According to Ngan, in order to raise the birth rate, it is necessary for society to pay more attention to the matter. Society and other members in the family should share the household duties and work with the women.
Le Truong Giang, chairman of the city's Public Health Association, said the city should remove its planned childbirth policy.
HCM City should be given the right to come up with policies to encourage couples to have their third child.
The slogan, "Every couple should have two children" should now be changed to "Each couple can decide how many children they want", she said.
Moreover, the city should have policies that encourage young workers in neighboring provinces to relocate and work in the city. VNS

Nguyen Doan Tu, general director of the General Department for Population and Family Planning, spokeabout changes to the number of children per family   and the necessity of adjusting population policies in the country.

Local authorities need to learn more about the multi-dimensional aspects of poverty and offer solutions to reduce the poverty rate in Ho Chi Minh City, Deputy Secretary of the municipal Party Committee Vo Thi Dung said.  

Care for orphanages should come from love, devotion and enthusiasm, and that's exactly what 60-year-old Bui Cong Hiep from HCM City has in abundance.