HCM City calls for 54,000 recovered Covid-19 patients to take part in epidemic prevention and control
HCM City has more than 87,000 Covid-19 patients who have completed quarantine, including 54,000 people of working age.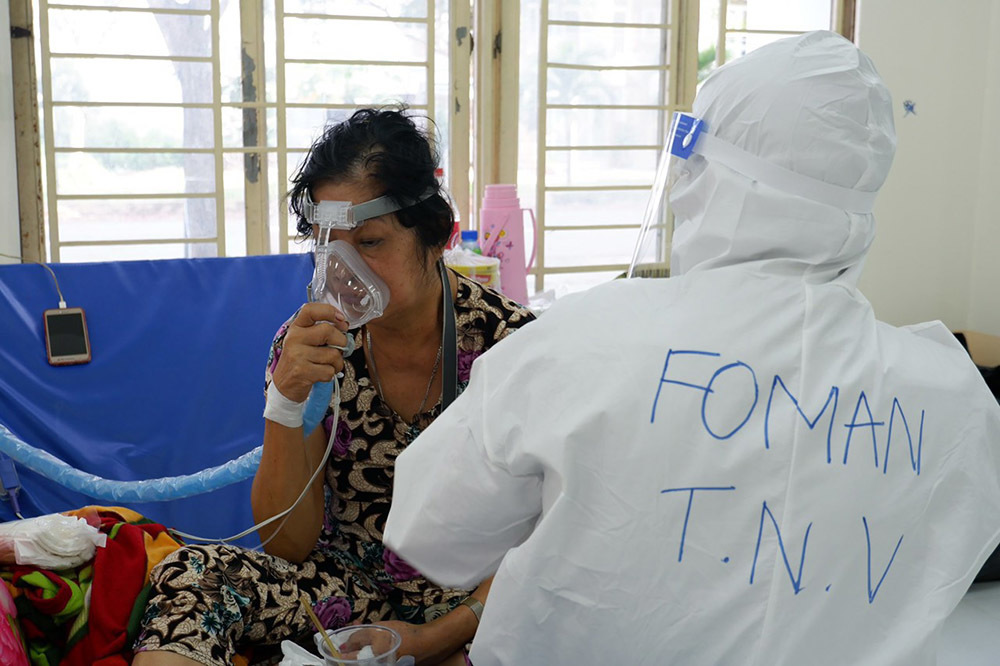 A newly recovered Covid-19 patient takes care of a Covid patient at the No. 4 field hospital in HCM City. Photo: Hong Ky.
According to HCM City's Vice Chairman Duong Anh Duc, the epidemic situation in the city is still complicated, and the work force at quarantine and Covid-19 treatment facilities is still in shortage. The participation of recovered Covid-19 patients in pandemic prevention and control is very important.
Duc has signed a plan on the use of recovered Covid-19 patients in the fight against pandemic in the city.
Under this plan, the city will encourage recovered patients to participate in the fight against Covid-19 pandemic, especially in caring, advocating, and sharing experiences with patients treated at hospitals.
They are encouraged to work on a voluntary basis and entitled to anti-epidemic allowances and others in accordance with regulations.
Subjects to this plan are Covid-19 patients who have recovered from the disease and completed a 14-day home isolation period according to the regulations of the Ministry of Health. They must have antibodies to the SARS-CoV-2 virus for those who have recovered within six months, or have been vaccinated against Covid-19 for those who have recovered from illness more than 6 months ago.
The recruitment time will be between September 10 and December 31. Volunteers can register at the Personnel and Organization Division of the Ho Chi Minh City Department of Health, phone number: 0907574.269 or 028392209967.
Vice Chairman Duong Anh Duc said that volunteers would be trained in infection prevention and control, and patient care procedures.
Tu Anh

Deputy Minister of Health Nguyen Truong Son has sent an open letter to the people of Ho Chi Minh City, calling for them to perform quick self-testing for Covid-19 to contribute to the city's fight against the epidemic.