Hard work and natural talent add up
Sixth grader Le Nguyen Hoang Nhat Dinh has had a love of numbers since he was little and is now far above his age when it comes to mathematics.
He's even picked up the nickname 'maths boy' from his teachers and friends at the Nguyen Thai Binh Secondary School in Ca Mau, the southernmost province of Vietnam, and has an impressive collection of awards and certificates after winning national and international mathematics contests.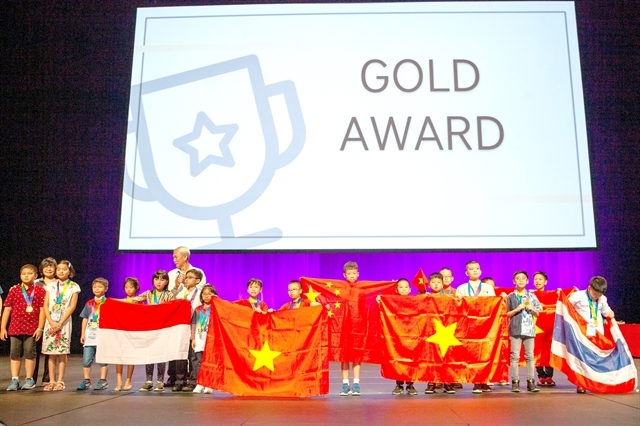 Nhat Dinh and his Vietnamese team have won many gold medals at international mathematics contests.
Among them are a gold medal at the International Mathematics AMO 2018 -- American Mathematics Olympiad, special prize and a gold medal at the Young Mathematical Talent Contest 2018-2019, and a gold medal at the national English Math Violympic Competition 2018-2019.
Dinh has also won internationally, with gold medals at the SASMO 2019, SIMOC 2019, the International Tournament Mathematics Without Borders MWB -- Winter Round, and the International Mathematics AMO 2019 -- American Mathematics Olympiad.
He also won the Canada Caribou Mathematics Cup, Grade 3 and 4, and was ranked 10th out of 10,704 candidates.
His father, Le Hoang Thanh, said his son showed a talent for maths when he was in kindergarten, easily learning the multiplication tables and basic addition, subtraction, multiplication, and division. He then finished first-grade maths well before his schoolmates.
"Our family was quite surprised, and decided to create about 100 maths exams on the internet when he was in first and second grade," he said. "It was fun for him to try the exams and win at competitions."
Though Dinh has not studied applied maths as yet, he can multiply five-figure sums without a calculator, his proud dad said.
"I have this special passion for maths and numbers but know that other subjects are important too," Dinh said:
But he spends a lot of time on his favourite subject, and has shown great progress since Grade 1.
"My sister was registering for exams online and doing pretty well, so I signed up," he said.
By the second grade, his teachers had recognised his talent in maths and helped him develop his potential. They even encouraged him to take the Grade 4 exam.
He won an encouragement prize at the provincial maths contest that year and was selected for the national round of English maths for Grade 4.
Dinh has taken part in many competitions since and won both domestic and international maths contests.
From a young age, Thanh said, Dinh has made plans for himself, in his living and studying habits. Whether a contest was large or small, he always took it seriously and gave it his best.
"When the kids are competing, I always tell them to consider it an experience and temper their expectations," he said. "This gives them the freedom to express their talent. I'm so proud of them."
Dinh's inspiration and passion for learning mathematics, English and informatics come from his parents and his sister.
"Our parents have always created the conditions for us to study well and not put any pressure on us," he said.
"My sister and I both like to study. While dad always helps us with exercises and enters us in competitions, mum nurtures our desire to learn. My sister has always set a good example too, and motivated me to improve."
The 'secret' to success, he said, is studying at home, which cements the knowledge acquired in the classroom.
"If I don't understand something in the lesson, I can look on websites or forums and even chat with teachers and friends," he explained.
English is a bit of an obstacle for Dinh in international exams, so he's been trying to improve his language skills to be able to fully understand contest rules and, better still, talk to his competitors.
Another obstacle is that Ca Mau is so far from HCM City, so taking any special exam or entering a contest there is a 600-km round-trip.
"It's tiring, but I'm always trying to do the best I can," he said.
Along with his studies, Dinh also takes part in different school and social activities. As a leader of the school's Ho Chí Minh Young Pioneer Brigade, he is energetic in whatever is taking place.
Teacher Huynh Tri Tam from the Quang Trung Primary School praised him as a good example for other students in combining study and social activities.
"He always has a scientific working plan, takes responsibility, and is considerate to this team mates," she said.
As well as studying at home, Dinh also likes playing chess and football and going swimming.
He also teaches maths and English to young kids at the local SOS Children's Village.
He received a Certificate of Merit from the Minister of Education and Training for being an excellent leader and team member, and also won the prestigious Kim Dong Prize and received a Certificate of Merit from the Chairman of the Ca Mau Provincial People's Committee for his achievements in 2015-2020.
His goal now is to become an IT programmer, and he can already design software on drawing, maths and history.
VNS

A teacher in the Mekong Delta province of Hau Giang has developed his own teaching resources for physics so his students can conduct experiments.