Hanoians spread green lifestyles
Recycling has grown ever more popular in Vietnamese society in recent years.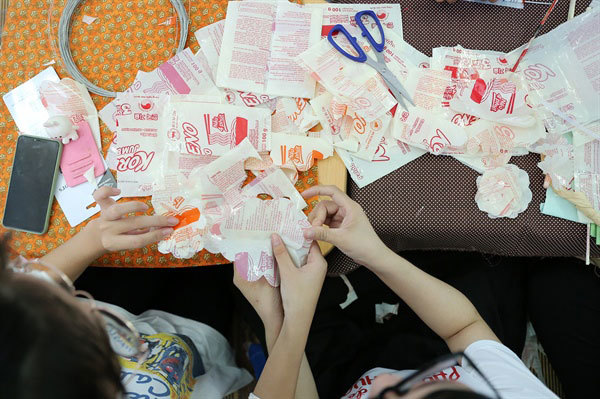 Members of Recycling Knight group using instant noodle bags to make some recycled products. Photo baovanhoa.vn
In Hanoi, many environmental protection models have brought practical results, contributing to spreading green lifestyles.
With a passion for inventing toys from discarded plastic cans and bottles, Luu Chung Nghia, a 30-year-old man in Vong La Commune of Dong Anh District, has a beautiful collection of animals and robots.
His outstanding products include a crocodile made from cardboard and fitted with an engine that can crawl on a flat floor and pigs made from beer cans and shampoo bottle caps.
"I have created about 1,000 products from discarded objects. Most of the things I made were small, funny, and suitable for children," Nghia said.
"Before being assembled into finished products, I had to neatly trim to avoid hurting users," Nghia said.
Nghia usually gives the products to relatives, friends and children's centres.
In addition, he regularly lends his recyclables for displays at environmental exhibitions in Hanoi.
According to Nghia, making a product takes a lot of time and effort, from forming ideas to selecting materials.
"The brainstorming process usually takes the longest time. I have to calculate so that the idea is close to reality, easy to implement and especially beautiful and attractive," Nghia said.
Every day, after working at a private company, he spends time researching, tinkering, and cutting and grafting products in his small room full of waste.
In Hoang Mai District, a group named the 'Recycling Knights' was launched in 2018.
The group aims to train environmental "ambassadors" to spread the green lifestyle.
In addition, the group collects and recycles waste and connects with other organisations to find ways to treat waste with the highest efficiency.
Cao Thi Sao Mai, the group's leader, said: "The group members often collect instant noodle packages, cardboard, beer cans and old clothes for recycling."
"With the waste, they unleash their creativity to make useful and eye-catching products," Sao Mai said.
"From discarded objects, through skilled hands and creativity, the young people here turn instant noodle packages to bags, vases, plates, and pillows while the old fabrics and clothes are sewn into pillow bags, purses, and towels," Sao Mai said.
Sao Mai said after each waste collection drive, the group's office was like a landfill.
Thanks to the work and creativity of the members, these scraps are usefully "revived", reducing the burden on the environment.
"We proudly called our office the 'happy landfill'," said the group leader.
Having been in waste recycling for nearly 10 years, Nguyen Dieu Thuy in Ba Dinh District said: "Initially, my husband and I found many glass bottles with beautiful colours, then we collected them and cut them into flower vases and then we decorated them more beautifully."
"Initially, the products were made for use only and presented to friends," Thuy said.
"But we were surprised that many people were interested in these recycled products so we decided to do more, gradually becoming our main profession," Thuy said.
They found cutting glass so difficult. To make different kinds of glass products, Thuy had to make her own cutters, but this was not highly effective.
In addition, painting on glass was very difficult and the paint was expensive, meaning their income from recycling was low, she said.
However, the recycling profession has given her a new, green and meaningful life.
"I want to use the recycling work as a message to people, especially youngsters, to pay more attention to environmental issues," Thuy said.
Representatives of some waste recycling models in Hanoi said the goal of the models was to spread green lifestyles and protect the living environment for the community.
Therefore, the products were made with minimum profits.
"The revenue from selling our products is invested in environmental protection, helping and creating jobs for children with disabilities and people in difficult circumstances," Sao Mai said.
The Recycling Knights group has worked with cafes and tourism sites to sell their products.
"All the money is used to raise funds to open a free book library called Vietnam Reading Spots. The spots are present in all 63 provinces and cities, with the number of participants up to nearly 4,000 people," said Sao Mai.
Sharing the idea of ​​spreading a green lifestyle, Nghia expressed his wish that in the future, waste collection and recycling will no longer be a single action but replicated throughout the community.  
VNS

Nguyen Thi Huong, Head of the Hanoi Sub-department of Natural Resources and Environment's Environment Assessment talks on how to make traditional plastic waste recycling craft villages become cleaner and greener.

Seven students aged 13 to 16 in Hanoi have successfully turned corn cobs thrown away by farmers into products useful for cultivation and livestock.