Hanoians live in fear as objects rain down from above

As Hanoi grows upwards through more and more new apartment buildings, new problems are also arising. Or, rather, falling.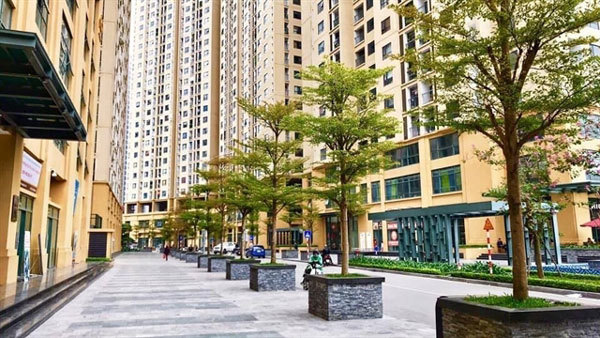 A view of the New Horizon City apartment buildings in Hoàng Mai District in Hanoi. A broom falling from the 17th floor of this building injured a baby boy last week. — VNA/VNS Photo Dinh Thuan
Last Wednesday, a broom fell from the 17th floor of the New Horizon City building in the capital's Hoang Mai District, hitting a 16-month-old baby.
The child was hospitalised and only needed stitches, but it was a close call, and one of many such incidents caused by those who live on high floors disposing of waste improperly.
Earlier in April, a lock that was thrown off a balcony at the same building hit an elderly man in the head. He was also briefly hospitalised.
Nguyen Van Doan, 30, who lives in the Linh Dam apartment building in Hoang Mai District, told Thanh Niên (Young People) newspaper that people living on upper floors often dropped beer cans, cups or even hammers and buckets to the ground.
"It happens regularly so I have to move as quickly as possible," he said.
A manager of the Linh Dam apartment building, who wished to remain anonymous, said the management board had caught several perpetrators.
One was a nine-year-old boy who broke a cup and, fearing his parents' anger, threw it from a high floor to the ground. Another boy threw 34 bags of rubbish to the ground, while a couple were also caught disposing of a chopping board by throwing it to the ground.
The management board warned the violators, but could not punish them due to a lack of regulations.
He proposed installing cameras outside the apartment building to easily determine violators.
Bui Ngoc Diep, deputy head of the Hoang Liet Ward Police in Hoang Mai District, said since apartment buildings had sprung up in the district, the population had increased incredibly.
The ward now has more than 21,200 households with more than 77,100 people, much more than in other suburban districts.
The crowded population made management difficult.
The police proposed apartment buildings' management boards install cameras to supervise and keep public security.
"But the most important work is to change residents' awareness," he said.
The problem has also occurred in HCM City.
A number of glass windows fell from a high floor at the Zen Tower apartment building in Thoi An Ward, District 12 in April, panicking local residents.
The incident happened after a strong wind caused a series of glass windows, about three metres in length, to fall to the ground. The glass shattered and destroyed a motorbike parked by the building.
Tran Quoc Nguyen Vu, head of the Carilon apartment building's management board in Ward 13, Tan Binh District, said objects that had fallen from high floors included children's toys, milk cans and other personal things.
The management board had already installed cameras and warned residents not to throw things.
The management board would soon determine a punishment for the violation, if residents' agreed.
Punishment
Lawyer Bui Quoc Tuan, from the HCM City Bar Association, said residents carelessly chucking objects from high floors could be punished based on the law.
They could be fined VND500,000-5 million (US$20-210) depending on the consequences.
If the falling objects cause fatalities, the violators can be prosecuted, and receive from one to 10 years imprisonment.
Lawyer Nguyen Manh Hung, from the Ha Noi Bar Association, said besides criminal proceedings, the violators must compensate the victims based on the Civil Law 2015.
VNS