Hanoi University Fair connects int'l school students with world-leading universities
The British International School Hanoi on September 27 hosted the International Schools of Hanoi University Fair 2019 at their Vinhomes Riverside campus in Long Bien District, Hanoi.
The fair attracted more than 150 universities from 20 different countries in attendance, with more than 30 workshops exclusively for Year 11-13 students and parents from the British International School Hanoi and the United Nations International School (UNIS).
Among the attendants were some top 100 world-ranking universities, such as the University of Edinburgh and University of Manchester from the UK, University of Toronto from Canada, University of Melbourne from Australia, University of San Diego and University of Wisconsin-Madison the US. 
The atmosphere was conductive and lively with exhibitors' stands on display, providing a huge amount of valuable information for students on application requirements, specific courses and general information on the university itself as well as the town or city that it is in.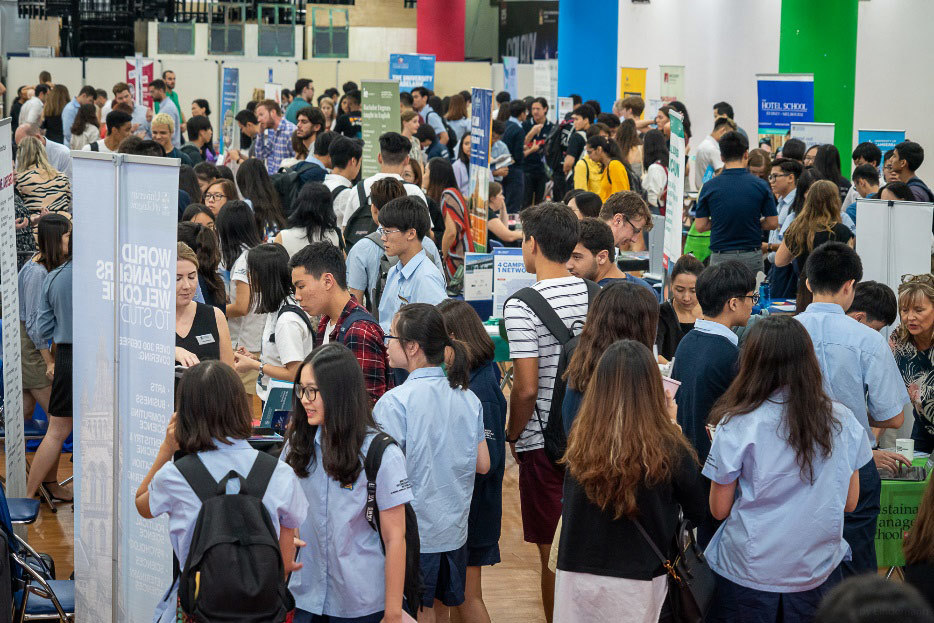 The International Schools of Hanoi University Fair 2019 hosted at BIS Hanoi's campus.
"The fair was great, I had some conversation with students and the questions they had were very insightful, not only about the admission process and majors, but also about the campus culture or even their passion", said Dane Rowley, a representative of the California Lutheran University.
Beside the fair, there were also over 30 workshops for students from the BIS Hanoi and UNIS as well as parents. Students were particularly interested in the topics such as "How to sell yourself through your activities list", "How to prepare for life at university", "How to prepare for an interview". For the parents, three specific workshops were held with topics revolving around what is it like for their children to study in the UK, Canada and the Netherlands.
"A lot of universities come and there is so much information going around, which makes the atmosphere here really exciting. The university's representatives gave us a lot of useful advice about not only their school, but also other schools in their region as well. They even gave life advice for while at university so I think it is very helpful for my future", said Valerie Lua, Year 13 student at BIS Hanoi.
The high level of enthusiasm at the fair was due to the students' good preparation and strong background, which benefits from the International Baccalaureate Diploma Program (IBDP) that they study in school.
The IB curriculum is for students aged from 16-19, and is widely recognized by top universities across the globe because of its high level academic courses that help to prepare students for their transition into university. The BIS Hanoi and UNIS are two of few international schools in Hanoi that are accredited to offer IBDP.
"The IB Admission process is very straightforward at Canadian universities. Having IB degree is a great advantage for the students since we will not ask for their test results or even TOEFL/IELTS", said Aaron Wang, representative from University of Toronto.
"The IB program is a very rigorous curriculum and for the students who are doing this program, we see that they are very well-prepared to enter universities in the US", Samantha Thompson, Wisconsin University's representative shared.
Academically, the IBDP requires students to take courses and pass exams in six specific subject areas. In addition to this coursework, students also have to submit an essay based on independent research, complete Theory of Knowledge course (which covers critical thinking and epistemology) and especially, they must participate in a certain number and range of extracurricular activities.   
As shared, achieving the IB Diploma can be a valuable asset for any student as it demonstrates the ability to succeed academically and personally in a rigorous and challenging program. These are traits that every competitive University values.
Thanh Van