Hanoi to auction Red River sand mining rights

The Hanoi People's Committee will hold an auction between now and September for the sand mining rights for the riverbed of the Red River in the city's Long Bien District.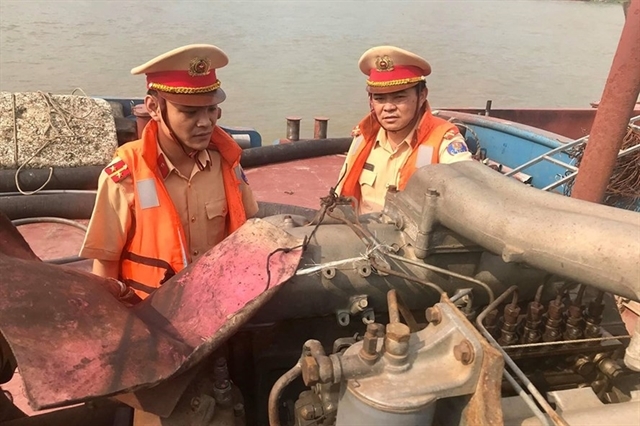 The police perform a check on a ship illegally taking sand from the Hồng (Red) River.
Deputy Chairman of the Hà Nội People's Committee Nguyễn Quốc Hùng said the committee assigned the city's Department of Natural Resources and Environment to lead the effort and give guidance in legal matters to investors.
City leaders said the auction must be fair for all investors. Their mining techniques must protect the environment and ensure public security.
Licensed investors are responsible for taking the sand to their designated areas and preventing others from illegally mining sand, which would cause losses to the State budget.
The municipal people's committee asked departments and districts to improve their management of natural resources in the capital city, especially sand mines. It said leaders of relevant organisations must take responsibility if violations occur.
The city also proposed the Hà Nội Police begin a campaign to tackle illegal sand mining and storing of construction material in the city, and establish two inspection teams to keep an eye on sand miners.
The city's six sand mines have a total area of three million square metres. Five of them are in Ba Vì District and the other is in Bắc Từ Liêm District.
They are permitted to operate from October 16 this year to June 14 next year. They will be closed during the rainy season from June 15 to October 15 every year.
Illegal sand mining along Hà Nội's rivers has been on the rise, damaging the environment and negatively impacting economic development. — VNS