Hanoi stops social distancing requirement on public transport from March 8
From March 8, Hanoi will remove social distancing on means of public transport.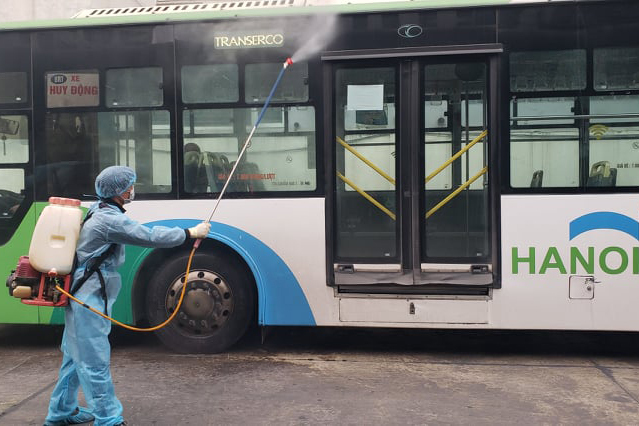 Spraying disinfectant on buses.
The Hanoi Department of Transport has also issued detailed instructions on prevention and control of Covid-19 in the new situation on intra-municipal passenger transport vehicles.
Accordingly, public transport vehicles still have to seriously take measures to prevent the Covid-19 epidemic, implementing the government's 5K message.
The Ministry of Health previously announced a message featuring 5K (in Vietnamese) Khau trang (facemask)- (Khu khuan) disinfection- (Khoang cach) distance- (Khong tu tap) no gathering – (Khai bao y te) health declaration to help citizens get used to living safely with the COVID-19 pandemic in a 'new normal' state.
Public transport vehicles must have hand sanitizer solution (at least 60% alcohol content) and trash cans with lid.
Transport enterprises and vehicle owners have to require drivers, attendants and passengers to wear masks during the entire trip, and disinfect vehicle surfaces before and immediately after each trip.
Transport firms and bus stations must strictly comply with the regulations on medical declarations using QR Code.
Since February 16 Hanoi has not recorded new cases of Covid-19 and basically has controlled the situation, but risks are high as the pandemic still exists.
Risks come from foreign experts who enter Vietnam for work, illegal entries via land border, and students from other provinces who are returning to Hanoi for resuming study.
Hanoi authorities affirmed that ny loosening social activities, the tightening of epidemic prevention and control must be performed at a higher level.
Tran Thuong

Minister of Health Nguyen Thanh Long has said that Vietnam will focus on the research and production of homegrown COVID-19 vaccines alongside imports, viewing this as a long-term strategy.