Hanoi sets up five treatment facilities to treat COVID-19 patients with mild symptoms
Hanoi has set up five centres to quarantine and treat COVID-19 patients with mild symptoms in five districts with a total of 1,150 beds from Wednesday (November 17).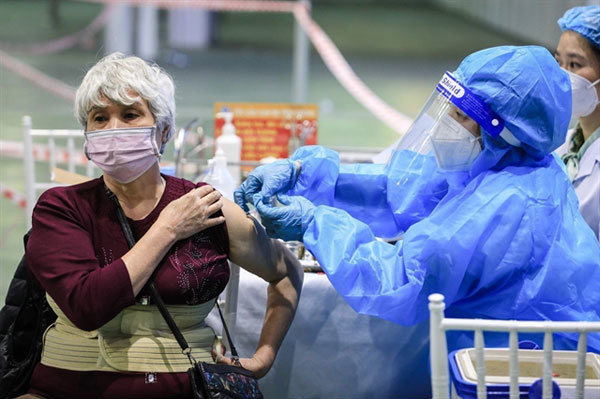 A medical worker gives a COVID-19 vaccine shot to an elderly woman in Hanoi. VNA/VNS Photo Thanh Dat
The five centres are located at the Culture and Sports Centre in Long Bien District, Tien Yen Secondary School in Hoai Duc District, Minh Phu General Clinic in Soc Son District, the Centre for Vocational Education in Thanh Tri District, and Le Thanh A Kindergarten in My Duc District.
These centres are part of the city's pilot programme for the treatment of mild F0 in the districts. The city will expand the models in districts and towns after the pilot period shows positive results.
Medical staff will be mobilised from universities, colleges of medicine, private medical facilities, and even retired doctors to work at these centres.
The move was made after Hanoi's People's Committee chairman Chu Ngoc Anh signed a dispatch to implement measures to prevent and control the COVID-19 pandemic in the city in the new normal on Tuesday.
The committee assigned the health department to build plans to treat COVID-19 patients at grassroots health clinics in the scenario of having up to 100,000 patients.
In recent days, Hanoi has seen a remarkable increase in the number of new infections. On average, more than 60 new cases were reported each day from October 11. There are 12 clusters of infections in the whole city with more than 120 quarantined areas.
The total number of cases in the city since the fourth wave of COVID-19 reached 6,481 on Tuesday.
The COVID-19 treatment facilities for patients with mild symptoms have been applied in HCM City during the past five months of the outbreak. Some of the facilities were dissolved after the city re-opened to the new normal from October. HCM City's Department of Health is considering the re-opening of mandatory quarantine areas and hospitals in districts. 
Tightening control over returnees
Hanoi has also tightened control over people returning from other localities.
Those who have received the full two doses of COVID-19 vaccine or have recovered from the disease returning from very high-risk and high-risk areas (red and orange zones) such as HCM City, Binh Duong, Long An and Dong Nai provinces will be required to quarantine at home for 7 days and take tests on the first and the last day of quarantine.
Those who have not had both doses or have not been vaccinated against COVID-19 returning from high-risk areas (orange zones) must be quarantined at home for seven days and continue self-monitoring at home for the next seven days. They will be tested on the first and seventh days of the quarantine period.
People who have had two doses of vaccine or recovered from COVID-19 returning from at-risk areas (yellow zones) must ​self-monitor their health at home for seven days and get tested once on the first day. Those who have not been vaccinated or given insufficient doses of COVID-19 vaccine will have 14 days of ​​self-monitoring their health and get tested twice on day one and day seven.
The city has also piloted quarantine at home for those who had close contact with COVID-19 patients or F1 cases.
Secretary of the Hanoi's Party Committee Dinh Tien Dung said that the city would continue implementing measures to control the pandemic in the new normal.
It would strengthen the establishment of mobile medical points in high-risk areas, especially in industrial zones and export processing zones.
The city would increase the number of beds at central-level and then district and ward level hospitals.
The city has required the Department of Education and Training to work with the Health Department to build plans to expand in-person learning in the coming months.
Source: Vietnam News

The capital of Hanoi has confirmed a total of 289 new coronavirus infections during the past 24 hours, the highest figure since the start of the COVID-19 outbreak in Vietnam.