Hanoi Secretary: if disciplined not tightened, 15 social distancing days will be wasted
Hanoi Party Committee Secretary Dinh Tien Dung warned that the city needs to tighten discipline or it will waste the 15 days of social distancing mandated because of the Covid-19 outbreak.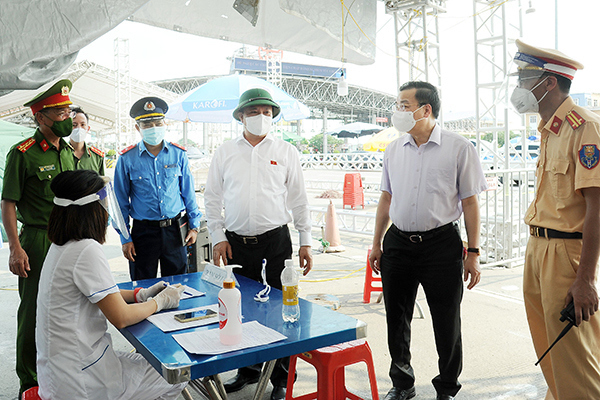 Hanoi Party Committee Secretary Dinh Tien Dung and Mayor Chu Ngoc Anh inspect Phap Van - Cau Gie checkpoint


Dung and Hanoi People's Committee Chair Chu Ngoc Anh on July 25 made an inspection tour to assess measures taken to prevent traffic jams at the gateways to the capital city.
Inspecting the Cau Gie intersection checkpoint (213rd kilometer on National Highway 1A) in Phu Xuyen district and Phap Van - Cau Gie highway toll station (188th kilometer) in Thanh Tri district, Dung and Anh said traffic jams were due to the lack of planning about traffic channels. Vehicles with no valid conditions need to be warned they cannot go through the area.
The Ministry of Public Security (MPS) agreed to set up a police team on duty at Vuc Vong intersection in Ha Nam province, in charge of orienting vehicles from the south towards Bac Ninh, Bac Giang and northeastern provinces. They should not go through Hanoi, but follow the diverted road as instructed by the Hanoi Police.
Dung and Anh also asked the city police to immediately check all the gateways to Hanoi and set up more checkpoints if necessary to ensure orderly traffic.
They will work with press agencies and social media to provide information to transport enterprises, cooperatives and drivers.
The police and the forces on duty at checkpoints have been asked to strictly observe the Prime Minister's Dispatch, not to examine vehicles carrying essential goods, food and foodstuff labeled with the QR Code of the transport sector.
Dung and Anh, who came to the sites to inspect the working and living conditions of cadres, officers and physicians at the checkpoints, praised the sense of responsibility and work results, especially since the implementation of Directive No 17.
"The strict traffic channeling has created an important shield to protect the city from a distance, thus contributing to the city's fight against the pandemic," Dung said.
He emphasized that the Covid-19 developments in Hanoi and the country remain complicated and the outbreak is likely to spread on a large scale if the city doesn't take drastic measures, so the checkpoints need to serve as an important shield to protect the city from sources of infection. 
Huong Quynh

Hanoi will apply strict social distancing measures across the city from 6am on Saturday July 24 to prevent further spread of the COVID-19 pandemic, according to the latest dispatch issued by local authorities on Friday evening.

In the new situation, social distancing may cover almost the whole country, affecting tens of millions of people and hundreds of thousands of businesses, and the supply chain of the whole country or at least a large economic area will be broken.