Hanoi offers free emission evaluation on old motorbikes
Owners of motorbikes in Hanoi can get a free emission evaluation until November 30 as part of the city's scheme to improve air quality.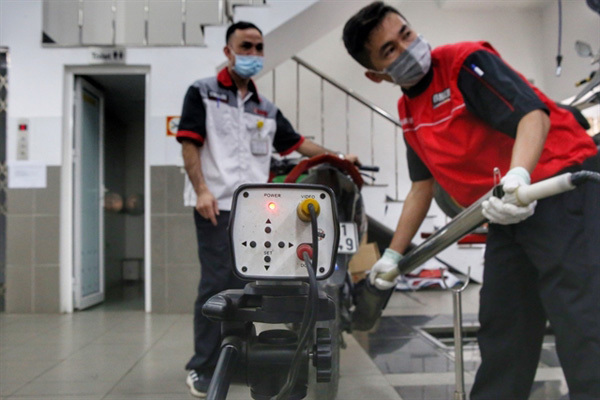 Mechanics check a motorbike's emission in Hanoi on Monday. The city' launched a scheme offering free emission evaluation for motorbikes until the end of November. — VNA/VNS Photo Tuan Duc
Starting on November 12, the scheme includes major activities such as checking emissions, removing abandoned vehicles, supporting the exchange for new motorbikes, and compiling a survey on impacts of the emission evaluation policy.
Owners of motorbikes that were registered before 2002 and belong to five brands of Honda, Yamaha, Suzuki, Piaggio, and SYM, can bring their motorbikes to eight evaluation stations in Hoan Kiem, Hai Ba Trung, Dong Da, Cau Giay, Thanh Xuan và Ha Dong districts.
If their motorbikes meet a number of requirements, including registration in Hanoi and have full parts, they will receive support of up to VND4 million (US$ 176) to buy to a new vehicle.
Owners of motorbikes registered before 2017 will receive free oil cans, while those that do not satisfy emission standards will receive maintenance coupons with a value of VND200,000 at maximum.
Hanoi has about 5.7 million registered motorbikes, many of which were made before 2000.
Source: Vietnam News

As many as 5,000 old vehicles will be put through emission tests by the end of next year as part of a campaign to improve air quality in the capital city. 

Prime Minister Nguyen Xuan Phuc has asked the Ministry of Transport to work with localities to take old motor vehicles that do not meet circulation standards off the roads.