Hanoi ceremony to hand over offerings from Thai King

A Kathina (robe offering) ceremony was jointly hosted by the Thai Embassy in Vietnam, the Thai Consulate General in Ho Chi Minh City and the Vietnam Buddhist Sangha (VBS) at Hoang An pagoda in Hanoi on October 21.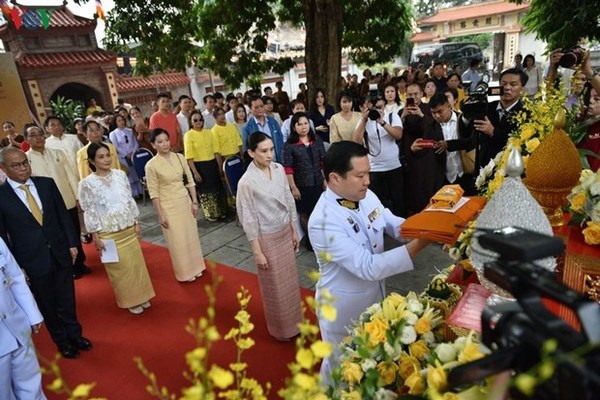 At the ceremony
The offerings were made by Thai King MahaVajiralongkorn Phra Vajiraklaochaoyuhua.
President and General Director of Thai Beverage PublicCompany Limited Thapana Sirivadhanabhakdi, who represented the Thai RoyalFamily at the event, and representatives of the Thai royal family handed over theofferings to monks of the pagoda.
They also presented a donation package worth 600 million VND (25,854 USD) fromthe Thai King and the Ministry of Foreign Affairs of Thailand to the pagoda.
Speaking at the event, Thapana Sirivadhanabhakdi affirmed the ceremony, held annuallyabroad, helps enhance the people-to-people exchanges between Thailand and othercountries.
Kathina ceremony is one of the long-lasting traditional rituals of TherevadaBuddhism in which followers donate new robes to monks with the hope that both monksand devotees at the ceremony will gain merits.
This is the 15th event of this kind held in Vietnam, reflecting the finerelations between the governments and peoples of the two countries./.VNA