Hanoi battling disease outbreak

Hanoi is facing the boom of some seasonal diseases, particularly dengue fever which has affected thousands of people.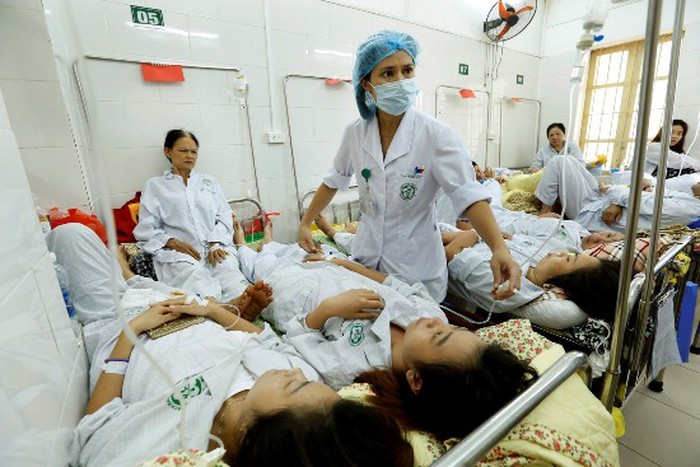 Hanoi faces dengue fever outbreak
So far this year, Hanoi has recorded up to nearly 8,000 dengue fever cases and the figure has continued rising.
Hanoi saw just 200-300 dengue fever cases per week on average. The number increased to 400-500 patients in September. The problem has worsened following heavy rains in early October. Luckily, the epidemic had caused no fatalities in the capital city so far this year.
Thanh Nhan Hospital has seen a sharp rise in dengue fever and chronic obstructive pulmonary cases recently. The hospital is providing treatment to 25 dengue fever patients and 20 chronic obstructive pulmonary cases.
Meanwhile, around people were taken to the National Hospital of Tropical Diseases per day on average. In many cases, all family members were hospitalised due to the disease.
These days, Vietnam National Hospital of Paediatrics serves some 3,000 children, including up to 30-40% suffering from respiratory problems.
According to Tran Minh Dien, deputy director of Vietnam National Hospital of Paediatrics, the weather change is among factors badly impacting people's health, particularly the elderly and children.
Associate Prof. Dr. Pham Tuan Canh, deputy director of National Otorhinolaryngology Hospital of Vietnam, said that the hospital sees a 30% rise of patient number these days.
People are advised to clean their house and not use open containers to store water for daily use. They also need to go to hospitals when showing symptoms of being unhealthy instead of using medicines by themselves.
Hanoi is taking drastic actions to deal with the epidemic which is expected to be controlled by late November.
Hanoimoi/Dtinews

Non-communicable diseases are the top cause of death in Vietnam, according to Deputy Health Minister Nguyen Truong Son.

Scientists of the Genome Research Institute under the Vietnam Academy of Science and Technology are contributing to the accurate diagnosis of five rare diseases by using next-generation gene sequencing technology.