Hanoi allows resumption of some services from September 21
Hanoi's authorities have allowed the reopening of some services in the city from 6am on September 21.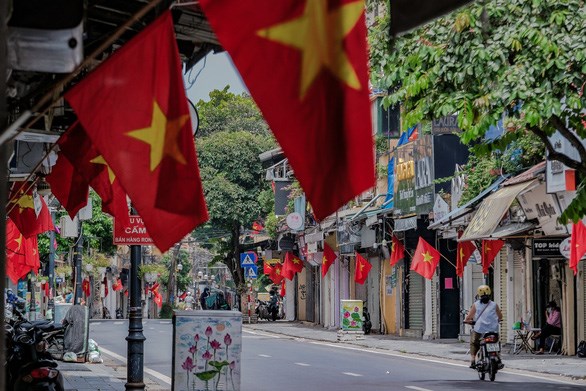 A street in Hanoi (Photo: baochinhphu.vn)
Stores providing essential goods and services are allowed to open, along with traditional markets, shopping centres, stores for stationery, textbooks, and other learning equipment, mechanics, electronics, and home appliances and in-door hairdressing salons.
Restaurants and food and drink establishments are permitted to reopen for delivery only and must close before 9pm every day.
Motorbike delivery services, including those using ride-hailing apps will continue to operate from 9am to 10pm but shippers must be vaccinated with at least one dose, make daily health declarations and strictly observe COVID-19 prevention and control regulations.
Under the new measures, agencies and offices of Hanoi and the central Government based in the capital city, companies, enterprises and corporations must develop arrangements to ensure half of their staff work online and half work at office.
Meetings and events are allowed with the number of participants not exceeding 20 within one room.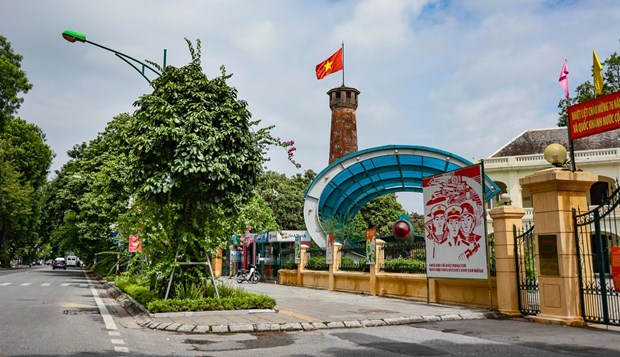 The Hanoi Flag Tower on Dien Bien Phu street. (Photo: VNA)
Funeral services must not have morethan 20 attendants.
Factories and manufacturing establishments outside industrial zones and clusters must strictly follow preventive guidelines and take the initiativein building safe production plans.
The social distancing is loosened butthe city continues to keep 22 checkpoints at the city's gateways and 33 othercheckpoints at the entrances to other localities to control people leaving andentering the city, especially from high-risk areas.
The city also proposed the Ministry of Transport continue suspending alldomestic commercial flights arriving at Noi Bai International Airport as wellas railway services transporting passengers to Hanoi.

Sport, cultural and entertainmentactivities at public areas and business establishments and religiousgatherings and celebrations are still banned.
Hanoi's authorities have set three targets in the coming time,with the top priority given to ensuring public health
and safety for the cityas a whole; along with exerting efforts to bring the pandemic under control andfully vaccinate people of eligible age; and adjusting measures in accordancewith developments of the pandemic so as to guarantee social welfare and businessactivities in the city.
Activities in quarantine sites, sealed-off and high-risk areas willbe regulated in a flexible manner in tandem with the situation.
Local people are asked to adhere to the Ministry of Health's 5K principle./.
Source: VNA