Ha Tinh seek scientific help to deal with unknown insect

Authorities in Ha Tinh Province are calling for help from experts to deal with an unknown type of insect which is killing one hectare of mangrove forest in the area.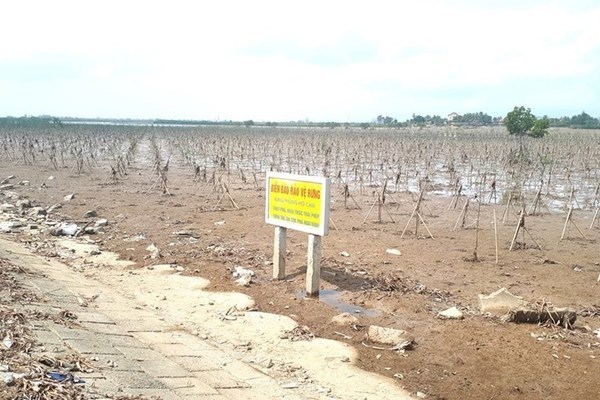 Mangrove forest destroyed by an unknown type of insect in Ha Tinh Province
On October 18, Nguyen Tri Ha, head of the Ha Tinh Province Plant Protection Department, said the mangrove forest had only been planted a year ago in Thach Mon Commune.
They noticed the destroyed forest two months ago and sent samples of the insect to the authorities but so far there has been no definitive result yet and they still do not know what the insect is.
"We don't have any solution now and we're seeking help from the scientists," Ha said.
According to Ha, this is an insect in the crustacean group. They carve out the trunk of the trees and kill the forest.
They aren't sure if this is a pest or not and can't announce an outbreak. Moreover, when dealing with insects, they have to make sure that the surrounding environment is safe. That's why they need permission from the related departments.
Ha Tinh People's Committee was consulted to seek for help from experts in the aqua, forestry and agriculture industry.
Thach Mon Commune has 45 hectares of mangrove forest. Over 10 hectares of which were only planted about a year ago.
Lao Dong/Dtinews