Government invests in 12 more projects along North-South Expressway
The Government proposed another 12 projects covering 729km of road on the North-South Express, according to the Ministry of Transport.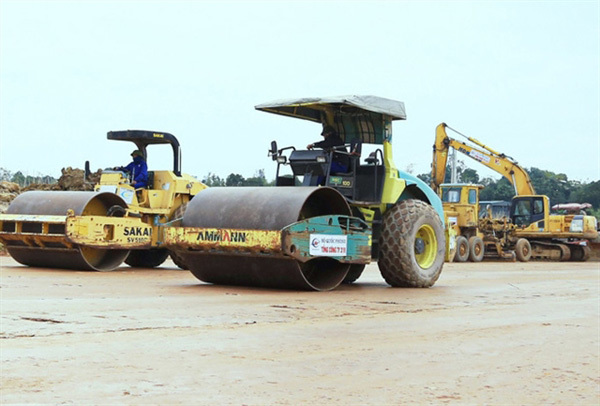 Construction of Mai Son-Highway section 45 on the North-South Expressway. Photo nld.vn
Last Tuesday, the Government submitted the National Assembly a pre-feasibility study of the 12 projects.
All 12 projects were proposed to be implemented in the form of public investment.
After that, the government will collect fees or franchise fee collection to recover capital.
Previously, the ministry proposed the public-private partnership (PPP) investment form for four out of the 12 projects.
The 12 projects would capitalise a total investment of VND146,990 billion (US$6.49 billion), of which the construction costs are VND95,837 billion ($4.23 billion), site clearance and resettlement are VND19,097 billion ($843.5 million), project management, and consulting fees of VND12,015 billion ($530.8 million), and provision expense at VND20,041 billion ($885.2 million).
The 12 projects include Bai Vot - Ham Nghi, Ham Nghi - Vung Ang (in Ha Tinh Province) Vung Ang - Bung, Bung - Van Ninh and Van Ninh - Cam Lo (in Ha Tinh, Quang Binh and Quang Tri provinces), Quang Ngai - Hoai Nhon, Hoai Nhon - Quy Nhon, Quy Nhon - Chi Thanh (in Quang Ngai, Binh Dinh and Phu Yen provinces), Chi Thanh - Van Phong and Van Phong - Nha Trang (in Phu Yen and Khanh Hoa provinces), Can Tho - Hau Giang, Hau Giang - Ca Mau (in Can Tho, Hau Giang, Kien Giang, Bac Lieu and Ca Mau provinces).
The Government also set out a two-year roadmap to prepare for investment, site clearance and resettlement, to start the projects in mid-2023 and have them completed by 2025.
Regarding the reasons for not investing in four projects in the PPP form, the Government said that the actual implementation of PPP projects in recent years encountered many difficulties and problems.
From 2017 to 2020, the Government carried out 11 projects on the North-South Express, of which eight were PPP investments and three were public investments.
However, due to the outbreak of the COVID-19 pandemic, banks spent a large amount of credit capital to support businesses and people, so they could no longer prioritise credit for medium and long-term loans anymore.
So, five PPP-invested projects of road sections of Mai Son – Highway 45, Vinh Hao - Phan Thiet, Phan Thiet - Dau Giay, Highway 45 - Nghi Son and Nghi Son - Dien Chau were converted for public investment.
The three PPP-invested projects of Dien Chau - Bai Vot, Nha Trang - Cam Lam and Cam Lam - Vinh Hao were assessed to be financially efficient, but there was still difficulty in mobilising capital.
It was expected that the total amount of credit loans from banks of the three projects was about VND6,500 billion ($287.5 million) out of VND9,000 billion ($398.1 million) of loan demand.
According to the Government's assessment, expressway projects had a large total investment and a long capital recovery thanks to taxes on tolls.
During the implementation of the contracts, the projects' revenue might be reduced due to the impact of many factors, so investors and credit institutions consider expressway projects to be an unattractive investment field with many potential risks.
Additionally, PPP highway projects had not yet attracted investors with financial potential, so capital mobilisation depends on only banks.
The Government had guided the ministry to consider investment plans for all projects under the PPP form. However, in the current context, the probability of success is not very high.
In the event of failure, investment must be sought from different avenues, to ensure the schedule of completion by 2025 is met.
Source: Vietnam News

The Ministry of Transport has submitted plans to build more than 700 kilometres of extra road on the east sections of the North-South Expressway.

The Government on November 15 suggested that the National Assembly (NA) approve public funding for all 12 subprojects of the 729-kilometer North-South expressway project in the 2021-2025 period.