Gov't okays resumption of domestic air routes
The government has agreed with the Ministry of Transport's proposal to resume domestic air routes on a trial basis, starting from October 10.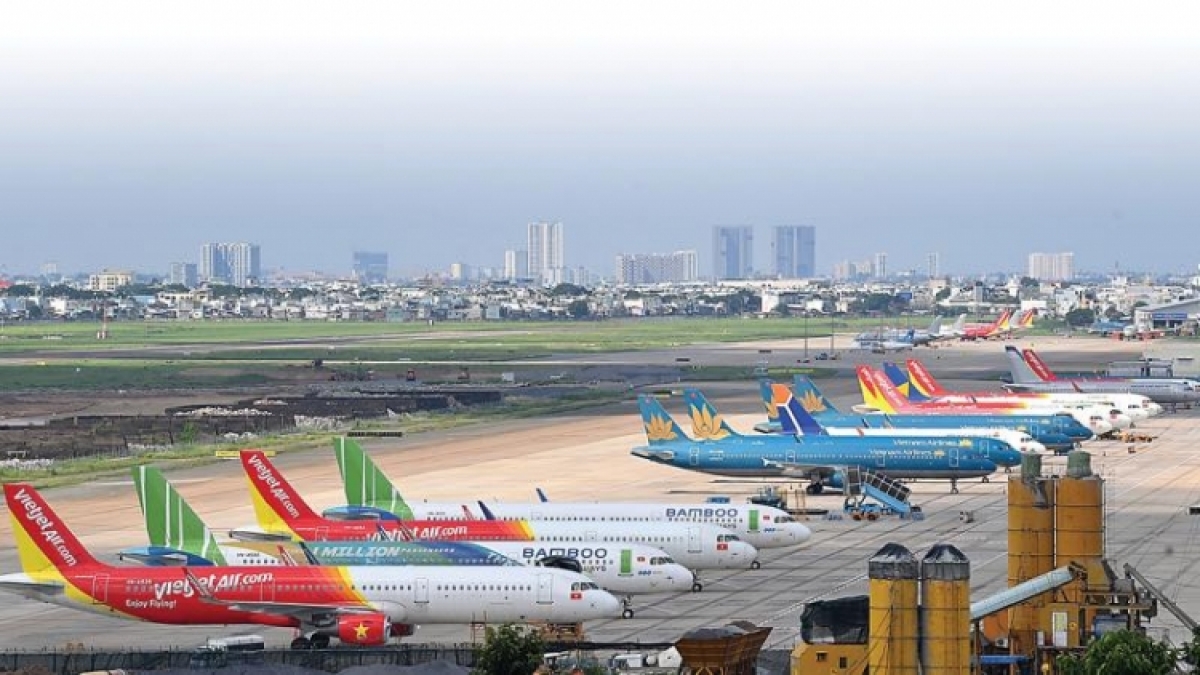 The move is necessary as it will help localities gradually restore economic development and bring people's lives back to normal, Deputy Prime Minister Le Van Thanh told an online meeting with relevant ministries and localities on October 8.
However, he noted easing air travel restrictions will pose a potential risk of virus infection that directly affects local socio-economic development and people's health.
He therefore suggested that the gradual resumption of domestic air routes should be done in a careful manner to ensure safety and avoid the spread of the virus through strict control of passengers at airports, in the air and when they return to their localities upon arrival.
In addition, he said localities must keep a close watch on passengers' movement and promptly isolate F0 cases (if any) in order to nip in a bud a possible outbreak of the virus in the community.
The Deputy Prime Minister asked the Ministry of Transport to work alongside the Ministry of health, Ministry of Public Security, Ministry of National Defence and localities to introduce temporary regulations and carry out the pilot scheme.
The Vietnam Aviation Business Association (VABA) earlier called on cities and provinces to facilitate the operation of regular domestic flights.
According to VABA, the high vaccination rate in Hanoi, Ho Chi Minh City and other localities will help reduce the probability of infection and the risk of death.
In addition, all passengers are required to undergo a quick test for the SARS-CoV-2 virus before boarding the plane. They must also turn on the COVID-19 tracking app (PC COVID) and not go to a concentrated isolation facility as previously required at the destination.
VABA reports that revenue of airlines has decreased to less than 10% compared to the pre-pandemic period. The prolonged coronavirus has caused the aviation industry to lose more than VND500 billion day in revenue, and the tourism industry to lose nearly VND2,000 billion a day.
To date, more than 10 localities that house airports have agreed to resume domestic air routes.
Vietnam Airlines resumes Hanoi – HCM City route
National flag carrier Vietnam Airlines announced on October 8 it will resume 14 round-trip flights on domestic routes, including those between Hanoi and Ho Chi Minh City, during a pilot scheme starting on October 10.

Vietnam Airlines will again operate flights from and to Hanoi, Ho Chi Minh City, Hai Phong, Vinh, Thanh Hoa, Quy Nhon, Hue, Da Nang, Quang Nam, Dong Hoi, Nha Trang, Tuy Hoa, Phu Quoc, Thanh Hoa and Da Lat.
For the Hanoi-HCM City route, Boeing 787 or Airbus A350 aircraft will depart from Noi Bai International Airport at 01pm and from Tan Son Nhat International Airport at 04pm every day.
The corporation will arrange a total of 152 flights during the pilot scheme lasting from October 10 to October 20.
Earlier the same day, the Government agreed with the Ministry of Transport's proposal to resume domestic air routes on a trial basis from October 10 to 20, in an effort to get transport and tourism services back on track.   
The Ministry of Transport has laid down guidelines for resuming domestic air routes. For the time being, passengers are public affairs servants, COVID-19 frontline forces, experts, business executives and several others.
Passengers must receive two doses of a COVID-19 vaccine, with the second dose given at least 14 days apart. Vaccination is evidenced by a green card on the E-health record book / PC-COVID app or a vaccination certificate. They must also have a negative COVID-19 test at least 72 hours before departure.
Those who show symptoms of a cough, a fever, shortness of breath, muscle pain or a sore throat are now allowed to board the plane.
Among other conditions, passengers are required to wear a face mask, disinfect their hands, and limit contact during the flight. From the arriving airport to their home, passengers are required to strictly follow COVID-19 guidelines, turn on the PC-COVID tracking app, limit stops, and not attend large gatherings.
Source: VOV

The Vietnam Aviation Business Association (VABA) has cities and provinces to resume flights to their localities, especially flights to/from Noi Bai, Da Nang and Tan Son Nhat, on October 10.