Gov't allows HCM City's firms to buy vaccines for employees
The government has approved a proposal by Ho Chi Minh City to allow companies to directly negotiate with suppliers to purchase vaccines for their employees amid the largest COVID-19 outbreak in the city.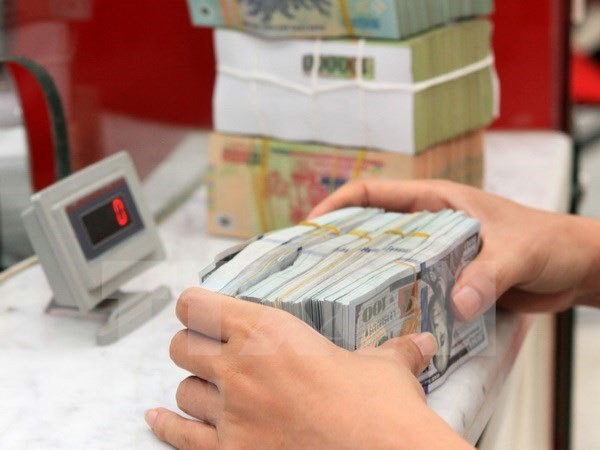 A medical staff receives the Oxford/AstraZeneca COVID-19 vaccine. The government has approved a proposal by HCM City to allow companies to directly negotiate with suppliers to purchase vaccines for their employees. (Photo: VNA)
Deputy Prime Minister Vu Duc Dam said under the Government resolution on COVID-19 vaccine purchases, enterprises were being encouraged to join hands with the Government to find vaccine sources on the international market and pay for vaccination costs for workers.

The Ministry of Health will be responsible for licensing and testing the quality of the vaccines, and providing guidance to ensure safety.

Nguyen Van Nen, Secretary of the municipal Party Committee, said that more than 70 percent of the population should be vaccinated to achieve herd immunity. "The city has established a working group to buy COVID-19 vaccines for residents."

More than 7.2 million people aged 18 and above live in HCM City, and of this number, 1.6 million work in industrial parks. But only 140,000 vaccine doses have been given, primarily to medical staff and others who are considered a priority.

The Department of Health plans to set up another temporary hospital for COVID-19 treatment for people with mild or moderate symptoms in Cu Chi district, according to Nen. 

The 500-bed field hospital with more than 400 medical staff located in Nhon Tay commune will use the existing infrastructure of Cu Chi Hospital.
Close contacts quarantined at home

The city's authorities are considering allowing people classified as F1 (close contacts of COVID patients) to be quarantined at home instead of in concentrated quarantine areas, as the number of F1 cases has continued to rise. 

The city's Department of Health will pilot the quarantining of F1 cases at home in some areas before expanding to other areas. It will also use technological solutions, in accordance with the law, to monitor quarantined people at home.

Dr Nguyen Huu Hung, Deputy Director of the Department of Health, said that under current Ministry of Health regulations, F1 cases must be placed in concentrated quarantine and F2 cases (contacts of F1) must quarantine at home while waiting for the F1 cases' COVID-19 test results.

Hung said that isolating F1 cases at home would help them feel more comfortable and ease overloading in concentrated quarantined areas.

However, not all home residences are eligible for isolation for F1s. The house or apartment must have a separate room for the isolated person. The health sector will evaluate each case for the final decision.

Dr. Truong Huu Khanh, an infectious-disease specialist, said it would be feasible to quarantine F1 cases at home, but only about 30 percent of the cases would be eligible. 

F1 cases are classified as either high-risk or low-risk. Only low-risk F1 cases are allowed to be quarantined at home, according to Khanh.

Low-risk F1 cases are people who, for example, have visited a supermarket or convenience store where a COVID patient has visited, or those who live in the same building or same floor as a COVID patient. 

Security cameras inside stores or shops can be used to help determine whether someone should be classified as low-risk or high-risk, according to Khanh.

The F1 cases quarantining at home should be supervised so that they do not leave the house. In addition to complying with preventive measures, the family and neighbours also have a supervisory role. 

Quarantining F1 cases at home can also reduce the risk of cross-infection that can occur in centralised isolation areas. But family members must minimise contact with the F1, Khanh said.

The city has taken serious measures and focused resources on battling the current outbreak, but the number of cases is still increasing, and thus the number of F1 cases continues to rise. 

In addition, an unknown number of people who are asymptomatic are considered potential "silent transmitters" in the community.

More than 33,000 people are currently under quarantine in HCM City. Of the number, 11,970 are quarantined in concentrated quarantine facilities and 21,057 at home and other accommodations. The city plans to expand the capacity of concentrated quarantine areas across the districts due to the rising number of cases.

As of June 16 afternoon, the city had recorded more than 1,000 community-transmitted cases since April 27, with the majority of cases recorded since late May, making it the third biggest COVID hotspot in the country's fourth wave.

The city has extended citywide social distancing in line with the Government's Directive No 15 until the end of June amid the ongoing developments of coronavirus clusters in the city.
Source: VNA

HCM City authorities will continue to support the business community affected by the pandemic and speed up the vaccination drive, Nguyen Van Nen, secretary of the city Party Committee, said during an online conference on Thursday.