HCM City: Former director involved in golden land lot prosecuted

The Ministry of Public Security has started legal proceedings against Nguyen Thi Thu Thuy, former director of HCM City's State-run House Trade Management Ltd Company, for violations related to a land lot project in the city's downtown districts.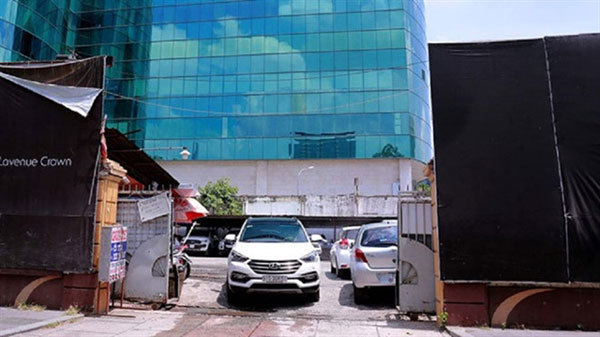 The area of land is now used as a parking lot. — Photo thanhnien.vn
She was charged with "violating regulations on the management and use of State assets, causing losses and wastefulness" as mentioned in the Criminal Code.
Thuy has been put in the temporary detention during the investigation.
The police also commenced criminal proceedings against Le Thi Thanh Thuy, chairwoman of managing board of Hoa Thang Nam One Member Ltd Company and Lavenue Investment Joint Stock Company, for similar charge.
The nearly 5,000sq.m land lot, stretching from No8 to No12 Le Duan Street is considered to be a 'golden land lot' because it is located at the junction of three major streets. It was public land and originally leased to four companies belonging to the Ministry of Industry and Trade in 2007.
The ministry reportedly asked to buy the land but the city refused.
The HCM City People's Committee decided that a five-star hotel and a mall would be built on it instead.
In 2009 then vice chairman of the People's Committee Nguyen Thanh Tai tasked the city's planning department with selecting "reputable and experienced hospitality investors" to implement the plan.
In 2010 the city established a joint stock company, Lavenue, with 50 per cent owned by the city's State-run House Trade Management Ltd and the four ministry companies.
But the four quickly sold 80 per cent of their share for a profit.
In 2011 Tai signed a decision approving Lavenue's use of the land for 50 years at a price of VND3.5 million (US$154) per sq.m per year, a fraction of the market rate of VND400 million ($17,565), according to the Government Inspectorate.
The Inspectorate concluded the transactions involved wrongdoings ranging from failure to organise open bidding and leasing the land without inputs from the People's Committee and People's Council to approving investment by financially inadequate companies.
In December last year, the HCM City People's Committee repossessed the lot saying it was sold in violation of Land Law provisions. It noted there were signs of deliberate violations of State regulations by Tai.
Police announced last December that Tai, together with three other senior officials of HCM City's Department of Natural Resources and Environment – Nguyen Hoai Nam, 53, Secretary of the District 2 Party Committee and former head of the department's land management office; Truong Van Ut, 48, former deputy head of the land management office; and Dao Anh Kiet, 61, the department's former director – were charged with "violations of regulations on management and use of State assets, causing losses and wastefulness". VNS