Foreign physicians working in Vietnam required to speak fluent Vietnamese: draft law

Foreign, as well as overseas Vietnamese doctors providing health check-up and treatment services in Vietnam, will be required to speak fluent Vietnamese, according to a draft amended law on medical examination and treatment.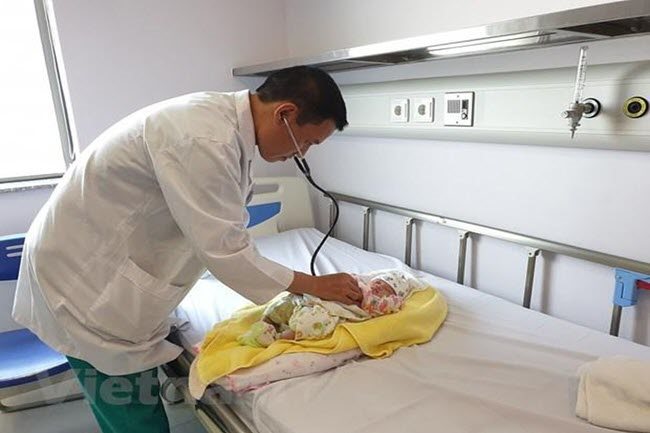 A local doctor examines a child patient. Foreign physicians working in Vietnam will be required to speak fluent Vietnamese, according to a draft law - PHOTO: VNA

Also, all medical indications and prescriptions issued by these doctors must be written in Vietnamese, reported Motthegioi.vn.
Their Vietnamese language skills are to be tested at training centers approved by the Minister of Health before they can provide medical care to local residents.
Overall, foreign and overseas Vietnamese doctors must meet general requirements to be granted practicing certificates, just as their Vietnamese peers do, and be fluent in Vietnamese.
The new regulation is necessary since many inadequacies have arisen in interpreting activities for foreign doctors working in the country, Nguyen Huy Quang, head of the Ministry of Health's Legal Department, said during a meeting on collecting feedback for the draft amended law, held on November 28.
Generally, a medical interpreter is supposed to work for a certain period with a doctor, but no interpreter accompanies a doctor for a lifetime.
Meanwhile, there are only six official languages used in interpretation at the United Nations. Therefore, it would not be easy to have a fluent interpreter for doctors coming from different countries, resulting in a need for foreign doctors to know the language of the country they are working in, Quang explained.
Apart from that, foreign patients visiting a country for medical check-ups and treatment services also have to know that country's language. This regulation has been adopted in many Southeast Asian countries.
Patients are responsible for talking to doctors about their medical histories. Accordingly, they have to be able to speak the language of the destination country so doctors understand their health histories, said Quang. SGT
 

The National Assembly (NA) on Monday voted for amendments to the immigration law, for the first time allowing visitors to change their visa status and prolong their stays in Vietnam without having to fly out of the country.

The Hanoi Department of Construction has announced a list of 16 housing projects in which foreigners can buy.