Food streets improve vendors' incomes, tidy up neighbourhoods
Several districts in HCM City have reserved some streets for local vendors to set up their food stalls, and at the same time, ensure food safety and hygiene in the area.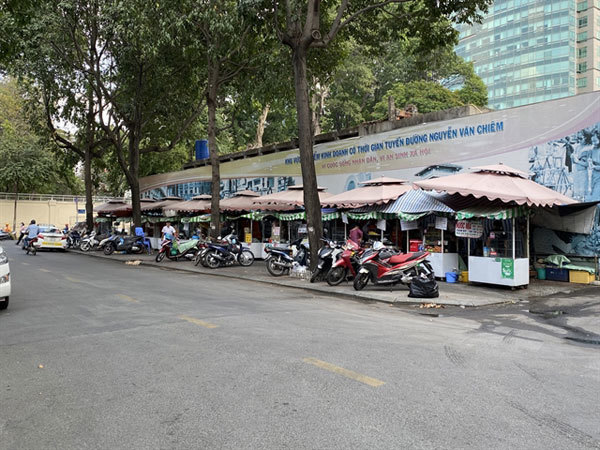 The pavement along Nguyen Van Chiem Street has been designated for street food vendors. VNS Photo An Phuong
Many food stalls can be found along Nguyen Van Chiem Street and Bach Tung Diep Park in District 1 and Le Binh Street in Tan Binh District.
Compared to years ago, pavement encroachment and littering along sidewalks no longer occurs in these areas. 
Authorities have provided 15 households in Bach Tung Diep Park with wooden furniture, canopies and vending cars free of charge. As the park is located nearby Nam Ky Khoi Nghia Street and People's Court of HCM City, the number of visitors is fairly high.
Meanwhile, on Nguyen Van Chiem Street, about 20 households in the street-food business have been divided into two shifts, from 6am to 10am and from 10am to 15pm.
Most businesses have been operating well, according to Sài Gòn Giải Phóng (Liberated SàI Gòn) newspaper.
"After the street opened for vendors, food stall owners started to have more stable incomes," Bui Duc Loi, a vendor, said.
Similar cases can be seen on the pavement along Le Binh Street where the People's Committee of Ward 4 in Tan Binh District has arranged a roof to make it easy for locals to do business.
Authorities also sent the vendors to participate in a course on food safety and hygiene.
Many street-food business owners here once received penalties for encroachment of roadways and sidewalks.
Street vendor Nguyen Thi Hong An said that a dedicated place for street vendors had helped secure stable incomes. "Previously, I used to constantly switch places."
According to the People's Committee of Ben Nghe Ward in District 1, street vendors operating on Nguyen Van Chiem Street and in Bach Tung Diep Park have seen their life quality generally improve.
This has contributed to a reduction in the poor and near-poor household rate in the area, while controlling food safety and hygiene.
Of 46 poor and near-poor households participating in this model, eight poor and 36 near-poor households have escaped poverty. They currently are seeking authorities' permission to open all day rather than on a shift-only basis. 
Model replication
Many experts said that replication of this model in HCM City is necessary to ensure the welfare of locals and tidy roadways. However, there should be a standardised way to expand the plan.
Vice chairman of the People's Committee of Ward 4 in Tan Binh District Nguyen Nhu Hung said that authorities could not just simply ask vendors to cease operations and seize their vehicles.
For the plan to work out, allocating a sufficient amount of land at busy areas to ensure traffic is a crucial factor. Street vendors are also advised to attend training on food safety and hygiene and not sell similar products.
"It would be great if each district has a spot to for street vendors to settle their businesses. But it is worth mentioning that these should be areas with dense population, parking spaces and convenient electricity and water systems,"  Bui Duc Loi, a street vendor on Nguyen Van Chiem Street, said. 
The People's Committee of Ben Nghe Ward said that District 1 would continue to support poor households to run their businesses without affecting the urban landscape.
The Committee has proposed a number of new spots that can apply this model, such as the pavement on Chu Manh Trinh Street (the section behind Children's Hospital 2), the pavement on Huynh Thuc Khang Street (the section opposite Cao Thang Technical College) and the sidewalk at the beginning of Thai Van Lung Street.
"I really appreciate the launch of these food streets as I can save time finding where to eat. Everything my colleagues and I want for lunch is probably here," Ngoc Tran, an officer in the area, told Việt Nam News.
She added that standardisation of food-related streets makes HCM City more beautiful.
"I love street food and actually Vietnam is known to have some of the best street food in the world. We should appreciate street vendors but organise them in a way that does not cause chaotic scenes in the urban landscape," she added.
Considering all the benefits that the model offers in helping locals escape poverty, ensuring food safety, and maintaining clean and tidy urban landscapes, it is crucial for HCM City to replicate the model on a larger scale.  VNS

Ho Chi Minh City can be considered a famous place full of entertainment for young people, with plenty of spots in which travel lovers can enjoy cheap street food.

Travel website My Late Deals has revealed its Street Food City Index, which features a total of 30 cities where visitors can enjoy the world's most delectable street food, with Ho Chi Minh City being ranked third in the list.  

Street vendors will be allowed to use sections of roads and pavements if they receive permission and pay fees for their business activities under a HCM City draft decision on road and pavement management.