Fire-prevention software used effectively in northern Vietnam

Forest management officials in the northern mountainous province of Tuyen Quang are now using a forest fire-warning software on their smartphones as part of fire-prevention and efficiency measures.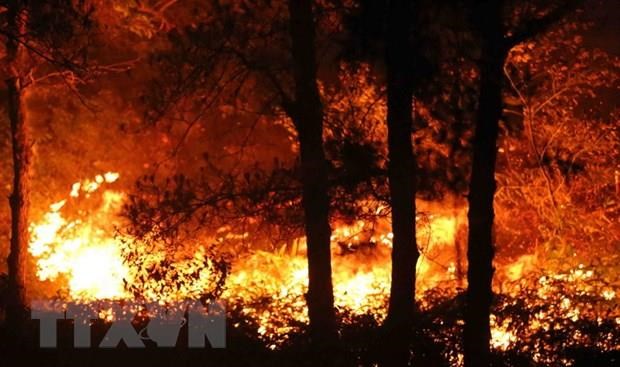 A forest fire. Illustrative Photo
Leaders of provincial forest management departments and divisions can receive early and updated information by using the software.
The provincial forest management department has set up 80 forest protection stations and has assigned forest rangers to be on duty around the clock to better protect forests from fires and illegal logging.
Thanks to these efforts, since 2018 Tuyen Quang has recorded no forest fires in spite of hot and dry weather.
Nguyen Bao Anh, acting head of the provincial forest management department, said that forest rangers and local residents were assigned to forests that have a high risk of deforestation.
Forest rangers will be strictly punished if they lack responsibility that leads to illegal logging, or illegal transportation and trading of wood.
In the first four months of the year, local forest rangers discovered 136 violations, down 20 per cent in comparison with the same period last year.
Tuyen Quang is home to nearly 423,000ha of forest, including over 233,000ha of natural forest.
The province is one of three areas with the highest rate of forest coverage, reaching nearly 65 per cent, in the country. —  VNS

Minister of Agriculture and Rural Development Nguyen Xuan Cuong has asked leaders of provinces and cities across the country to urgently adopt measures to prevent and fight against forest fires amid the long-lasting hot weather.  

Heads of localities or establishments where fires cause serious consequences to people and property will have to take responsibility for any violations of fire prevention and control.

The local authorities have warned about the fire risks at thousands of local facilities in HCM City.