Fee collection suspension lifted at three BOT projects

The Directorate for Roads of Viet Nam (DRVN) on Wednesday lifted the suspension of fee collection at three build-operate-transfer (BOT) projects.
DRVN asked to lift a suspension on fee collection at four BOT projects
Banks are worried as BOT projects incur losses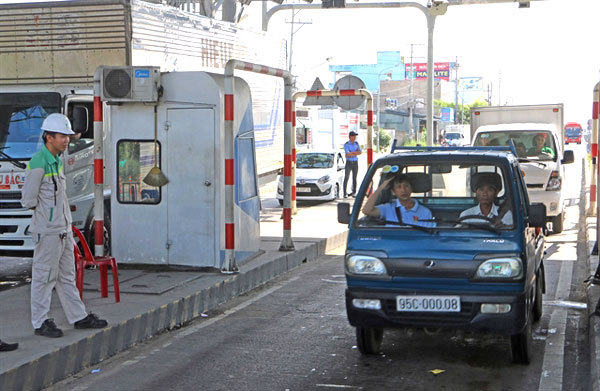 VETC worker monitor vehicles driving through Can Tho – Phung Hiep BOT tollgate. — VNA/VNS Photo Thanh Liem
The tollgates Cam Thinh in Khanh Hoa Province, Phuoc Tuong – Phu Gia in Thua Thien – Hue Province and Can Tho – Phung Hiep in Can Tho Province were saved from the ban per the Ministry of Transport (MoT)'s orders.
Earlier this month, the directorate announced a halt to fee collections from 6pm on July 10 if investors failed to sign a contract appendix to set up the electronic toll collection (ETC) system with the Ministry of Transport (MoT).
BOT project owners opposed the order, citing the unreasonable ratio of revenue they are expected to give to VETC – the ETC service operator – as well as monitoring costs, expenditure and the requirement they would need to hand over tollgates to VETC.
During a meeting with the MoT on Monday, representatives of BOT projects said they had signed the appendix and were collecting fees automatically via the ETC system.
The installation of the ETC was expected to raise the expense of a BOT project, which resulted in the extension of the fee collection period.
After the discussion, Deputy Minister of Transport Le Dinh Tho asked the DRVN to lift the suspension on fee collection at the four projects.
On July 8, the investor of Duc Long – Gia Lai BOT, which was also affected by the order, negotiated and signed a contract appendix to implement the ETC system at its two toll booths on National Highway no.14.
The suspension of fee collection at this project was then withdrawn.
The other three projects have also completed negotiations with the DRVN, allowing them to continue collecting fees at these tollgates.
According to the MoT, the ETC systems have to be deployed at all 44 BOT projects nationwide by the end of 2019 with investment of VND1.7 trillion (US$73.1 million).
VNS