Family willing to go into quarantine to keep their community safe

Nguyen Van Cong (not his real name) is happy that his family is under quarantine in Vinh Phuc Province.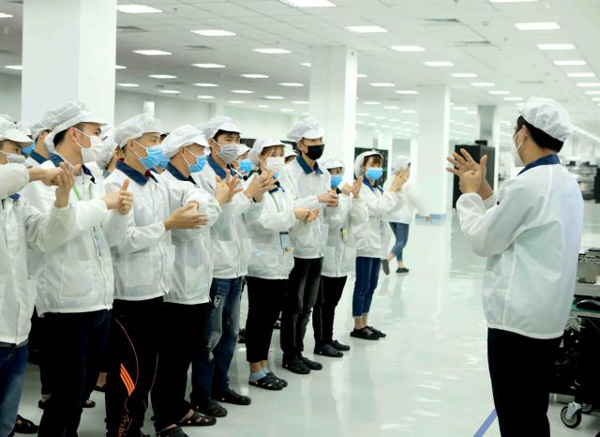 Workers at Ba Thien 1 Industrial Zone in the northern province of Vinh Phuc receive instructions about how to wash their hands. 
Cong, 27, and his wife Nguyen Thi Thanh (not her real name), 25, are both teachers in the province.
The province has the highest number of cases of COVID-19 in the country, with 11 people testing positive. Nine of them are from Binh Xuyen District, one in Tam Dao District and another in Tam Duong District.
Their school has been closed since January 31 to prevent the spread of COVID-19, so Cong and Thanh left Son Loi Commune and to visit Cong's hometown in the northern province of Nam Dinh on February 10.
Upon their arrival, the local medical sector examined them and instructed them to stay indoors.
More than 30 people who had contact with Cong's family were also instructed to isolate themselves.
Their temperatures were taken three times per day, and so far all of them are in a stable condition.
Nguyen Van Chien, chairman of the Yen Cuong Commune People's Committee, told Saostar e-newspaper that Cong's family had volunteered to go into quarantine and clean their accommodation.
Local authorities had sterilised their house and neighbouring residences, he said.
Nguyen Van Quan (not his real name) – Cong's father, said that after receiving instructions from local authorities, his family had been at home since January 31.
"My son and all of my family are healthy, so we don't pose a threat to the country," said Quan.
Quan said his family did not experience any problems while they were under quarantine. — VNS

No new cases of the coronavirus outbreak in Vietnam had been reported in recent days and infected patients were responding well to treatment.

Localities across the country are proactively implementing measures to prevent the spread of novel coronavirus (COVID-19).

The Ministry of Industry and Trade on February 12 launched a website on the fight against the acute respiratory disease caused by the new coronavirus (COVID-19) at http://hanhdong.moit.gov.vn/.