Eighteen infants mistakenly vaccinated with COVID-19 vaccine are in a stable condition
Eighteen infants who were mistakenly inoculated with COVID-19 vaccines in Quoc Oai District, Hanoi are in stable conditions two weeks after the shots, according to Saint-Paul Hospital.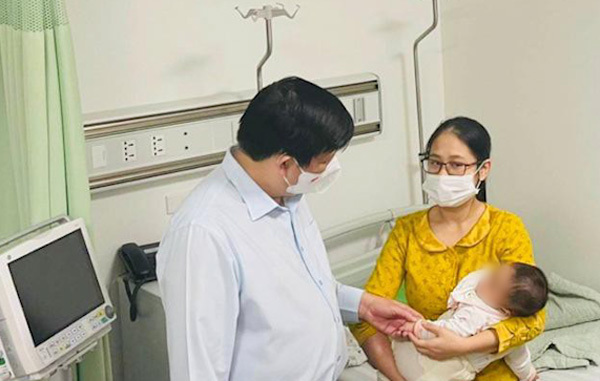 Health Minister Nguyen Thanh Long visiting one of the babies mistakenly given a dose of the Covid-19 vaccine at Saint Paul Hospital in Hanoi. VNA/VNS Photo
On the evening of November 16, experts from the National Paediatrics Hospital and Hanoi's Saint Paul General Hospital met to re-evaluate the health status of these children.
All are in a normal condition and all previous symptoms like swelling have disappeared. Only a few experienced digestive disorders, mild runny noses, atopic dermatitis and eczema.
Following the direction of Minister of Health Nguyen Thanh Long, city leaders in Hanoi, and medical experts have monitored the health of the infants over the past two weeks.
The babies are currently at the Neonatal Department of Saint Paul General Hospital.
The two hospitals have established a special group of experts to regularly update and exchange information on the health status of the children.
During the monitoring process, these babies were tested three times on the 3rd, 7th and 10th day after the shots.
At the meeting, participants agreed that it is necessary to continue to monitor their health and re-assess the specific health status of each child.
Tran Minh Dien, Director of the National Paediatrics Hospital, said the infants will be closely supervised until the 28th day after the shot was administered.
After that, they will have their health checked up once a month over the next 12 months.
On November 3, eighteen babies aged between two months and six months in Hanoi's Quoc Oai District were mistakenly inoculated with the Pfizer/BioNTech COVID-19 vaccine.
The case was discovered and reported to the Hanoi Department of Health on November 4.
The children were transferred to Saint Paul Hospital in Hanoi for health examination and treatment.
Source: Vietnam News

All 18 babies aged between 2 and 6 months old are now in stable condition after they were mistakenly given a Pfizer shot on November 3, according to the Hanoi Department of Health.