Eating to live or to go to prison?

You may have heard of people dying from obesity, but it's rare to hear of someone going to prison for not eating enough. But that's the case here.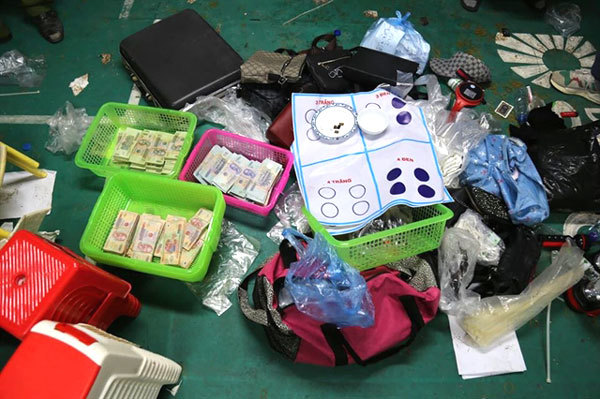 Cash and other items related to gambling seized by police. — Photo dantri.com.vn
Police in the northern province of Vinh Phuc recently smashed an illegal gambling ring, with 52 arrests and the seizure of VND700 million (US$30,100).
Bui Van Luu, 53, a resident from Vinh Tuong District's Dai Dong Commune, was identified as the leader.
Police had been monitoring the ring for several months but hadn't found a way to infiltrate the gang, so an undercover officer was sent in.
Last Wednesday at Luu's house, a guard heard a street vendor shouting "xôi lạc, bánh khúc đây" (Who wants xôi lạc and bánh khúc?)".
Xoi lac is a steamed glutinous rice mixed with peanuts. Bánh khúc is a steamed glutinous rice dish with khuc leaves, mung beans, pig fat and pepper.
Because he was so hungry, the guard asked Luu for permission to open the door to buy some food. With consent from the owner, the guard called the street vendor into the house.
However, no food was to be found but there were dozens of police officers waiting behind him. Everyone was arrested, and 43 mobile phones and six cars were also seized.
The case is under further investigation. VNS

Police busted an online gambling ring on the messaging app Zalo in the Central Highlands province of Dak Nong on Wednesday.  

The People's Court in the northern province of Bac Ninh handed jail terms to Ngo Ba Kha (known as Kha Banh) and another five found guilty of gambling at a first instance trial on Wednesday.

More than 380 Chinese nationals were held in police custody on Saturday for their involvement in Vietnam's largest-ever underground online gambling ring run by foreigners.