Early childhood education project benefits 1,600 children

Over 1,600 children in HCMC have been provided with toys, stationery and other necessities by an early childhood education project of UNICEF Vietnam over the past three years.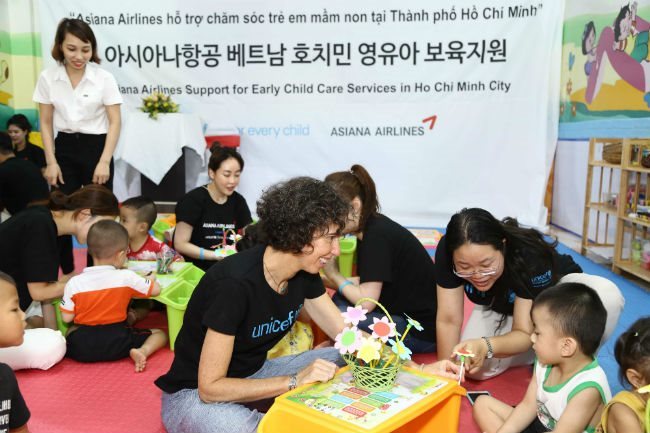 Volunteers from UNICEF Vietnam and Asiana Airlines visit a kindergarten
Some 77,000 children, including 38,000 whose parents who are employed at industrial and export processing zones in HCMC and Danang, will benefit from the "Integrated and Fair Early Childhood Education: for The Beginning of A Better Life" project in the future, the project operators said at a roundtable in HCMC on November 5.
The project has supported children of migrant workers in HCMC. Due to their parents' poor financial conditions, the children lack an interactive, healthy and adequate environment for their physical and mental development. 
In addition to assisting the children, the project has also provided training for 830 teachers to improve the living and educational conditions of the children.
The project was commenced in 2017 and sponsored by South Korea's Asiana Airlines. According to an agreement between UNICEF Vietnam and Asiana Airlines, the airline has provided US$400,000 for the implementation of the project.
Cho Young Seok, communications executive director of Asiana Airlines, said: "I have visited some kindergartens in HCMC and felt very happy when seeing the children are well educated and have fun together. Funding for the project, which comes from donations by passengers and the airline's employees, has been used in a meaningful manner." SGT