Donated land gives the gift of education

Poor children in Bon Sar Village, in the Central Highlands province of Gia Lai, are now able to read and write thanks to Nay Bim, an elderly villager who donated land and funds to build a school.
Farmer donates lands for building schools
Poor people donate land to build schools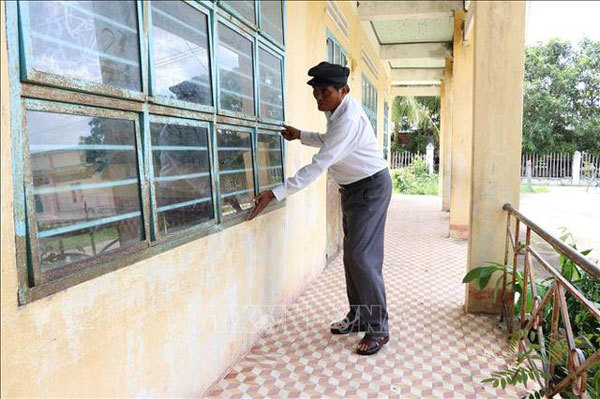 Nay Bim in front of Bon Sar School. The Jrai man from Bon Sar Village in the Central Highlands province of Gia Lai donated 800sq.m of his own land to build the school. VNA/VNS Photo Hong Diep.
The school has just five small classrooms, each big enough for about 22 children, but it has been operating effectively for nearly 15 years. Children from poor families are able to get an education and improve their lives.
The Bon Sar School has not only helped eradicate illiteracy in the village, but also set a good example for other villages in Ayun Pa Town and Ia Rbol Commune to follow and boost the promotion of education in the whole province.
Nay Bim, the donor behind the school, is a member of the Jrai ethnic minority. Now nearly 70, he is an official of the local Motherland Front Committee.
Every day, for many years he has ridden a bicycle to each household in Ayun Pa Town to inform them about the Government's policies, encourage and guide them to participate in local socio-economic development and poverty eradication. Particularly, he convinces them to join the provincial authorities' illiteracy eradication programme by letting their children go to school.
In order to get trust from local people and help them understand that education is a good way to get out of poverty, in 2004, Nay Bim donated land to build a school for children in Bon Sar Village.
He used to face difficulties in convincing local people to support him in building a school and letting their children study there.
Previously, the old man said, bringing knowledge to children in the villages in Ayun Pa Town was really tough as many local people did not know about the Government's poverty eradication programme and did not understand that illiteracy was the main cause of poverty.
"I know my words might have not helped, so I decided to donate my own land to build the school. I also tried to mobilise others to contribute to building cultural houses for the community," said Nay Bim.
Witnessing his work and seeing their children learning to read and write, gradually, more and more local people understood what Nay Bim wanted them to do and thus more schools have been set up in the town.
"Building more schools means bringing knowledge to more children. That's a way to develop our culture and help enrich our lives, our homes as well as our country," said the elderly man.
Thanks to his support, last year, the Ia Rbol Commune successfully completed the yearly targets in its plan of building new rural areas.
"Nay Bim has set a bright example in promoting and mobilising people to respond to the local movement of building new rural areas. His donation of land for construction of public works including schools for children and roads for communal transportation has made a great contribution to our success in building new rural areas," said Phạm Thị Vân, Party Committee Secretary and Chairwoman of People's Committee of Ia Rbol Commune.
Before 2004, the commune had a population of more than 300 people living in about 90 households. All of them were ethnic Jrai, and a majority of them were illiterate, according to a report from the communal authorities.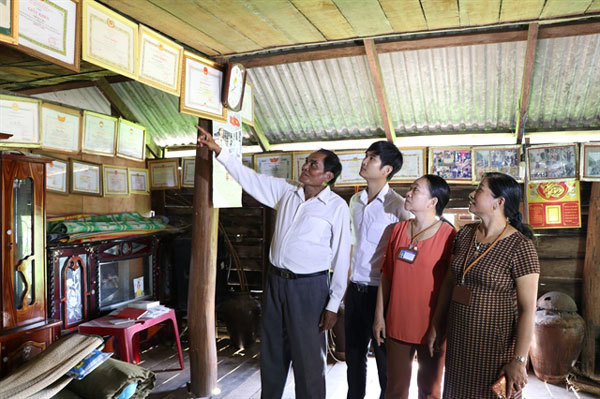 SEAL OF APPROVAL: Nay Bim shows some of his certificates of merit to visitors. The Bon Sar villager has been honoured by local authorities in Gia Lai Province for his contributions to local illiteracy and poverty eradication.
Nay Bim understood the difficulties of the commune in improving the education of local people.
"Illiteracy made people's lives hard but because there were no schools in the village, children could not have a place to study. I thought about this so much that I could not eat or sleep," Nay Bim said about the situation in his village 15 years ago.
In late 2004, the old man donated 500sq.m of his family's land to build the school for local children.
In 2013, he donated a further 300 sq.m of adjacent fields to increase the campus area to 800sq.m, with three classrooms for primary pupils and two classrooms for kindergarten.
Many of those who graduated from the school are now in higher education. Some of them even vowed to return to work as teachers for the school.
One of them, teacher Nay H'Le, who said thanks to Nay Bim she could continue her studies, is now teaching at the Bôn Sar School.
"I was very lucky when Nay Bim donated land and opened the school right in our village. I could continue my studies. After graduating from university, I was honoured to come back to this school to teach. My students now include my relatives, my nieces and nephews. I have committed myself to fulfil Nay Bim's wish that I will bring knowledge to our children," Nay H'Le said.
Bon Sar is one of the successful models of new rural development in Ayun Pa Town with a green, clean and beautiful environment. The village roads are all concreted. Illiteracy has been eradicated and there are now only seven poor households in the village.
Thanks to his contribution to the construction in Bon Sar Village, Nay Bim has received many certificates of merit from communal and provincial authorities.
Last year, he was honoured to represent ethnic elderly people of Ayun Pa Town to attend a national ceremony that was held in the capital city of Hanoi to recognise exemplary members of ethnic minorities in the country.
The villagers said it encouraged him to continue his contribution to the community.
By Hong Diep
VNS