Deputy PM suggests relocating residents from popular railway track

Deputy PM Truong Hoa Binh has asked local authorities in Hanoi to relocate residents living along the rail tracks in the city centre.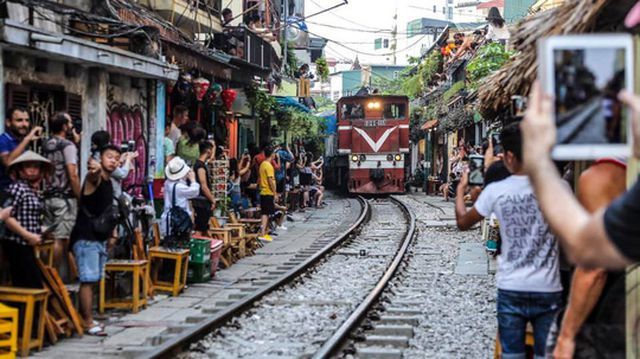 The train track cafes popular with tourists
He has asked state agencies to research and quickly find the most suitable solution to relocate the residents in order to ensure railway traffic safety and the livelihoods of the citizens.
He also asked the Ministry of Transport and Hanoi People's Committee to review and deal with the proposal made by the residents living along the railway.
In early October, Hanoi authorities shut down the train track cafes along the popular railway line on Dien Bien Phu to Phung Hung Street.
This section of the railway is a huge tourist attraction and many people think it is a unique feature of Hanoi.
The police admitted that since the railway and buildings were built long ago, the safety distance was not ensured in many sections. They blamed lax management and light punishments for violations.
After the cafes were shut down, the residents living along the railway submitted a letter to the authorities saying the railway had boosted tourism and their incomes.
They hoped that they could be allowed to continue their business activities and made commitments to ensure railway safety such as maintaining a minimum safety distance of 1.5 metres from the track. However, the proposal was turned down. Dtinews

The rail track on Long Bien Bridge is seeing an increasing number of visitors after Hanoi banned visitors from visiting the railway on Phung Hung Street.

The owners pledged to comply with regulations on prohibited commercial activities within a minimum distance of 1.5 m from the railway, as well as to draw safety lines and install stainless steel bars on the front of each store and house.