Deputy Minister of Health explains new anti-pandemic strategy in HCMC
HCMC won't place as much emphasis as before on tracing F0 cases. Instead, it will focus on treatment to minimize the mortality rate, said Deputy Minister of Health Nguyen Truong Son, who has been in the city for 45 days.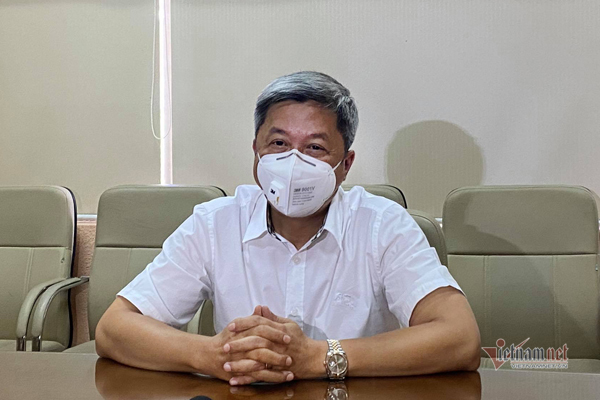 Deputy Minister of Health Nguyen Truong Son
Has the pandemic in HCMC reached its peak? Will we be able to control the situation in 10-14 days?
It is difficult to say if the pandemic has reached its peak now. If we strictly apply Directive 16 on social distancing, the number of newly infected cases will decrease in the next two weeks. But treatment is unpredictable. Some cases turn serious and deaths are still being reported.
Under the plan, the current social distancing campaign will last until the end of August 1. Will the prevention measures be eased to the level stipulated in Directive 15+?
With the current conditions, HCMC will surely have to apply Directive 16 after August 1, or it may have to even apply stricter measures. The city will give detailed assessments by that time.
On July 22 and 23, the municipal authorities released Directive 12 and Dispatch 2468 on strengthening social distancing measures in accordance with the PM's Directive 16.
Two weeks ago, at a meeting at the Ministry of Health, you proposed that the anti-pandemic strategy needs to change its focus into easing the impact and focus on treatment. And HCMC has begun following the new strategy. Does this mean that it is no longer necessary to focus on tracing and isolating?
Different strategies are needed for different periods of the pandemic, which need to change to adapt to new circumstances.
In the previous period, when the number of F0 (infected) cases was low, we could trace F0s to find out tens or hundreds of F1 (close contacts of F0) cases. But now, with the presence of Delta variant which can spread very rapidly and 4,000-6,000 new F0s found every day, gathering strength on tracing F0s is no longer suitable to the new conditions.
Under the new strategy, we will still conduct tracing, but won't put as much emphasis on this. But we need to gather strength to treat patients, and protect the people with underlying health conditions and old people to ease the mortality rate.
There are 16 field hospitals in the city and it has received 6,000 staff who have come to reinforce the fight against the pandemic. Is this enough for us?
Some hospitals are still having big difficulties in workforce, especially district hospitals. In current conditions, the health sector still has to make every effort to struggle to protect patients.
How many F0s are under home quarantine?
More than 37,000 F0s and F1s are under home quarantine, as of July 28. 
Thuy Hanh

Vietnam recorded 3,698 new COVID-19 infections, including one imported cases, in the past 13 hours to 7pm on July 28, the Ministry of Health has announced.

The British government will donated 415,000 doses of the AstraZeneca COVID-19 vaccine to Vietnam, British Secretary Dominic Raab announced on July 28.