Dengue fever cases show signs of increase in Vietnam
The spread of dengue fever has showing signs of increasing in both Hanoi and southern localities following several deaths being reported, according to the Ministry of Health (MoH) on October 6.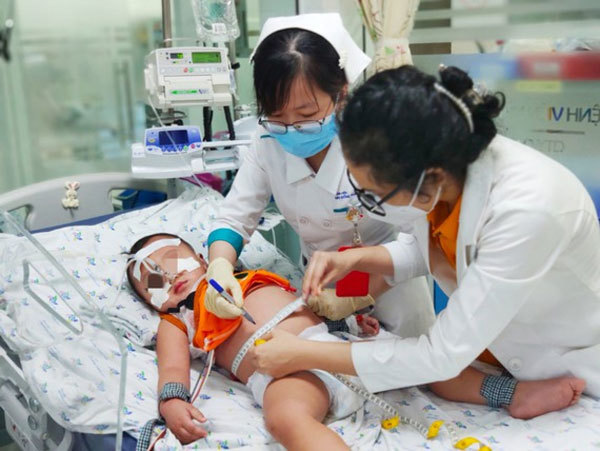 Medical workers is treating a severe child patient infected with dengue fever. (Photo: SGGP)
The Center for Disease Control of Ho Chi Minh City (HCDC) said that the number of dengue fever cases has been increasing due to the season starting to peak.
Since the beginning of the year, the southern city has recorded two deaths caused by the disease. In line with this, he HCDC noted that Children's Hospital 1 is typically receiving between 10 and 15 dengue fever patients each day, with one death being reported due to the severe symptoms.
Meanwhile, the City Children's Hospital is receiving between five and six daily cases, of which several severe patients contracted both COVID-19 and dengue fever.
A total of 741 cases of dengue fever went uncovered over the past nine months in the southern province of Can Tho, while in Dong Nai the number of patients aged 15 and below reached 3,437, with this figure marking an increase of 105% compared to the same period last year.
As of late September Hanoi had recorded more than 720 cases of dengue fever. In line with this, the number of patients increased from late August to September with 60 to 70 cases per week. Meanwhile, in the June to July period, approximately 30 to 40 cases were detected each week.
As a means of ensuring dengue fever treatment and reducing the fatality rate, the MoH has ordered leaders of hospitals, medical establishments, and health departments nationwide to continue taking COVID-19 containment measures. This should be done whilst simultaneously ensuring health examinations and treatment for dengue fever cases.
The Ministry also recommends people fully cover all water containers to prevent mosquitoes laying eggs, eliminate mosquito larvae, and clean water containers regularly. They also suggest sleeping with mosquito nets, wearing long-sleeve clothes, and co-ordinating with local medical workers to spray chemicals to prevent the disease. 
Source: VOV
The dengue fever season is starting to peak, with cases being detected in 29 out of 30 districts across the capital, according to information released by the Hanoi Department of Health,