Da River water safe for consumption: official

Water supplied to hundreds of thousands of households in Hanoi that was contaminated by oil waste is now safe for drinking and cooking, according to Hanoi authorities.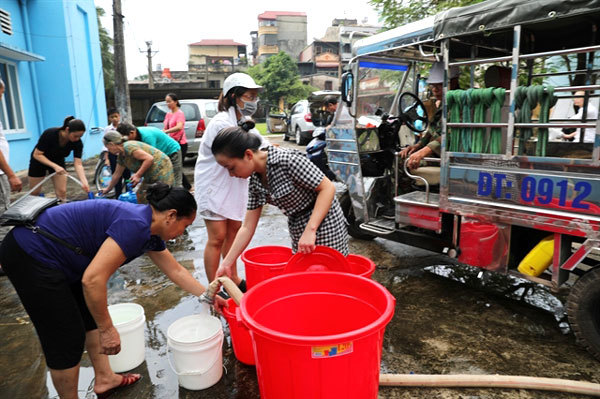 Residents of Ha Dinh Street in Thanh Xuan District of Hanoi had to use all sorts of items to hold clean water provided by the Hanoi Clean Water Company after oil waste contamination disrupts the supply. — VNA/VNS Photo Thanh Dat
Chief of staff of the Hanoi People's Committee Vu Dang Dinh said water from the Da River was safe at a meeting yesterday in the capital.
The announcement came after a two-week-long water crisis for nearly 250,000 households due to high levels of styrene in the tap water sourced from the river, after nine tonnes of oil waste allegedly from a ceramic producer was dumped illegally into Dam Bai reservoir in Hoa Binh Province, which feeds water into the Song Da water plant.
Results of testing showed all water samples met safety criteria issued by the Ministry of Health, Dinh said.
"For six days, the city's Centre for Disease Control took water samples for testing in residential areas in districts of Thanh Xuan, Hoang Mai, Nam Tu Liem, Cau Giay, Hoai Duc, Dan Phuong, Thach That and Quoc Oai which were using water supplied by Song Da Water Company," he said.
"The styrene concentration met the Ministry of Health's standard," he added.
The test results were published.
The Centre for Disease Control will continue to take water samples in the upstream portion of the river and at the plant for more tests until the end of this month.
At the meeting, the Song Da Water Plant was asked to supply free-of-charge water to affected citizens until the end of this month.
The company was also told to check the water quality monitoring and controlling devices in its entire supply system.
The company was also asked to install automatic monitoring systems to check the water input and output every day to prevent similar incidents, as well as train its workers to handle such incidents.
While testing the water quality in residential areas, Hanoi Water Company was asked to co-ordinate with Viwaco Joint Stock Company to regulate the clean water source from the Duong River Surface Water Plant and underground water plants to supply sufficient clean water.
The water companies were requested to provide water by water tanks and 20-litre cans to affected schools.
Organisations and individuals were asked to thoroughly clean water pipes and tanks and Viwaco is asked to support the activities. So far, the clean-up was basically done except in a few cases where apartment building owners asked to delay the clean-up until the water supply becomes safe and stable again.
The Department of Construction has worked with relevant agencies to supervise water treatment procedures at Song Da Water Plant to make sure that it meets current standards.
In particular, the Hanoi People's Committee requested Hoa Binh Province authorities to delineate a protection zone for the water sources that feed Song Da Water Plant to ensure safety of the supply.
Wastewater discharging to the Da River should be closely monitored by relevant offices.

Hanoi will give daily reports on tap water quality following the oil contamination at the Da River Water Plant.

The strange odour in domestic water detected by residents in some districts west of Hanoi was due to an increase of chloride used to disinfect source water from the Da River.
VNS