Da Nang sets up hotline to help pandemic-affected foreigners
The central city of Da Nang has launched hotlines to assist Covid-19 affected foreigners.
Nguyen Thuy Anh, Deputy Director of the Department of Foreign Affairs of Da Nang City, told VietNamNet that three days after launching the hotlines to assist Covid-19 affected foreigners, the city had received 180 calls.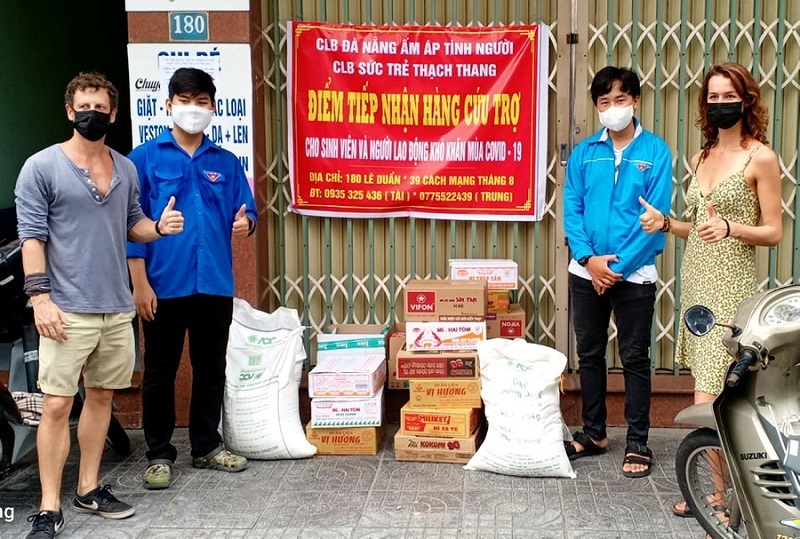 Foreigners living and working in Da Nang have donated necessities to support Da Nang people.
Most of the calls asked for support to buy food, to go to vaccination sites, to go to appointments for medical examination, and to buy necessities.
The majority of foreigners in Da Nang are experts working in industrial zones, mainly in the two districts of Son Tra and Ngu Hanh Son.
"For those who need support in purchasing food and necessities, our department will transfer information to the related districts to buy and deliver goods to their homes. For difficult cases who are out of money, we will verify information with the authorities of the related districts and bring food to help them," Thuy Anh said.
There are more than 4,800 foreigners in the city. Many of them are Korean.
Hotlines to support foreigners in Da Nang
For English speakers:
Son Tra District: Mr. Dang Cao Ky, phone number: 0935.994.359, email: kydc@danang.gov.vn
Ngu Hanh Son District: Ms. Nguyen Thuy Linh, phone number 0935.240,791, email: Linhnt3@danang.gov.com
Hai Chau District: Ms. Nguyen Thi Cam Tu, phone number: 0913.830.038, email: tuntc@danang.gov.vn
Thanh Khe and Cam Le districts: Ms. Nguyen Thi Phuong Huyen, phone number: 0934.797.275, email: huyenntp@danang.gov.vn
Lien Chieu and Hoa Vang districts: Mr. Nguyen Hong Linh, phone number: 0905.133.664, email: Linhnh@danang.gov.vn
For Chinese speakers:
Ms. Nguyen Thi Hong Hanh, phone number: 0916.681.599, email: thanhnth7@danang.gov.vn;
For Korean speakers:
Ms. Tran Thi Phuong Nga, phone number: 0905.902.287, email: ngattp@danang.gov.vn
For Japanese speakers:
Ms. Thai Thi Ha Giang, phone number: 0349.589.943, email: giangtth2@danang.gov.vn
Ho Giap

Vice Chairman of the Ho Chi Minh City People's Committee Duong Anh Duc has agreed to conduct vaccination against COVID-19 for foreigners living, studying and working in the city, within its capacity and resources.

Seeing Vietnamese people struggling to fight the ongoing COVID-19 pandemic, many foreigners, like Tchico, are doing their part in keeping the virus at bay.