Critically ill coronavirus patient recovers from disease
A Vietnamese coronavirus patient described as the most critically ill in Vietnam has been discharged from hospital after making a full recovery from the disease, doctors said on March 27.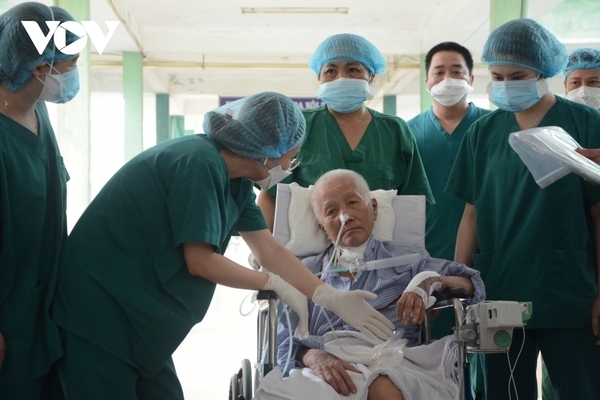 The 79-year-old patient leaves Da Nang hospital for Ho Chi Minh City where doctors will treat her underlying illnesses.
The 79-year-old woman dubbed patient 1,536 has tested negative for the SARS-CoV-2 virus nine times during his 70-day stay at Da Nang Lung Diseases Hospital.
The patient who returned from the United States was admitted to the hospital on January 15 following positive tests for the SARS-CoV-2 virus.
She was diagnosed with severe pneumonia due to the novel coronavirus plus other underlying illnesses such as hypertension, diabetes (type II), heart failure, and blood clotting disorders.
During treatment, the patient suffered from respiratory failure, forcing doctors to put her on a ventilator and prescribe her ECMO intervention in order save her life.
Leading Vietnamese specialists have held a total of seven national consultations to examine the best treatment therapy for the patient.
To doctors' surprise, the patient recovered day by day and stopped using the ECMO therapy after 26-day extensive treatment.
The patient was on March 27 transferred to Cho Ray hospital in Ho Chi Minh City for treating the underlying illnesses at her family's request.
VOV

Due to the shortage of a global supply of Covid-19 vaccines, the vaccine batch provided for Vietnam by the COVAX program may arrive in Vietnam later than scheduled.