Covid-19: Vietnam reports 33rd case

Vietnam has reported two more cases of Covid-19 infection, including a British man and a Vietnamese woman who returned from London.
The latest patient is a 58-year-old British man who traveled to Vietnam on the same Vietnam Airlines flight with other 9 foreign passengers who were also tested positive to Covid-19 previously.
The 32nd patient is a Vietnamese young woman who met and joined a party with the first case of Hanoi who returned to the country on March 2.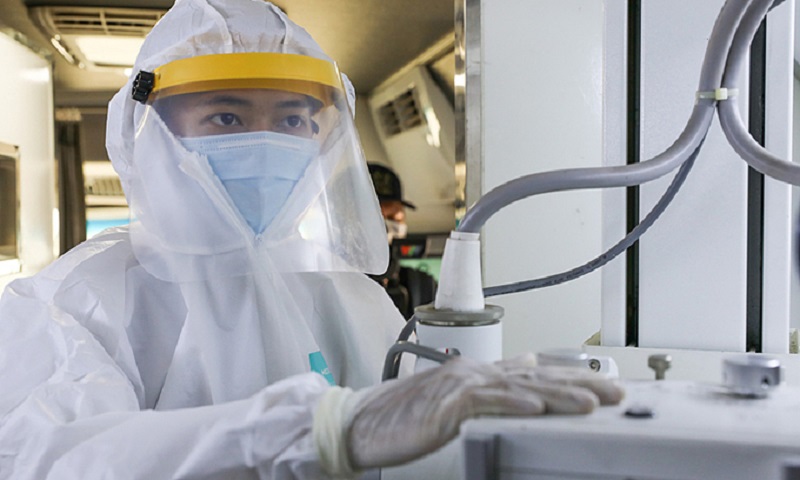 The latest case is under the treatment in Ho Chi Minh City
The woman, T.N, 24, is now under treatment in Ho Chi Minh City after returning to the country from London, the UK by a private jet on Monday morning, local media reported.
T.N. is said to be daughter of a famous businessman in Vietnam.
The girl showed symptoms of pneumonia on March 2. She met and joined a party with Nguyen Hong Nhung, the first case of Hanoi, in London on February 27.
T.N went to a hospital in London for medical checkup and was given outpatient treatment. On March 7 after learning about Nhung's infection, she came back to the hospital and told the doctors about her contact history but was told to be isolated at home without any test for SARS-CoV-2.
After returning to Vietnam, T.N was sent to Cu Chi Field Hospital for isolation and taken samples for testing which showed positive on the same day.
She is now with fever and dry cough but no shortness of breath.
In a related move, Ho Chi Minh City authorities have call for medical checkup of Vietnamese artists who participated in Milan Fashion Week on February 18-24.
The city expected that any artists who came from the event will soon cooperate with local authorities for medical checkup after an attendee of the Milan and Paris Fashion Weeks was tested positive with the new coronavirus.
The attendee is elder sister of Nguyen Hong Nhung, the first case of Hanoi, who returned the country from London on March 2. Nhung also visited Milan in mid-February.
So far, Vietnam has 32 people infected with the new coronavirus, including 12 foreigners who are British (8), Chinese (2), one Irish, and one Mexican.
As of March 10, the global infected people hit 114,433, including 4,027 deaths, of them, 3,136 in China. Italy becomes the largest virus outbreak outside China with 9,172 cases and 463 deaths. South Korea ranks second with 7,513 (54 deaths), followed by Iran with 7,161 (237 deaths). Hanoitimes/VietNamNet
Linh Pham

The Vietnamese Ministry of Health has quashed a rumor that the number of coronavirus infections in the country will surge from the current 31 to 100-500 in a week.  

Authorities in the northern port city of Haiphong are searching for 25 foreign tourists and six crew members who were travelling on the same ship as Vietnam's 30th coronavirus patient.