COVID-19: Vietnam confirms 187 community cases over 24 hours
The Ministry of Health (MoH) announced an additional 54 locally transmitted coronavirus cases recorded in Vietnam during the past six hours, raising the country's 24-hour infection number to a record high of 187.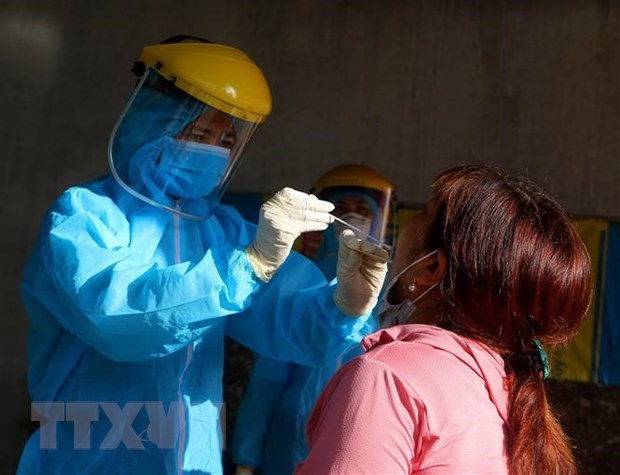 A medical worker is collecting sample for COVID-19 testing. (Photo: VNA)
All the 54 cases were detected in quarantine or lockdown areas, posing no risk to the surrounding communities, the MoH said in its 19.00hrs update.
Of the total, 24 cases were diagnosed in Bac Ninh province, which is not far from Hanoi capital. They were all closely tied to the current coronavirus outbreaks in Mao Dien commune, Thuan Thanh district, and Van Trung industrial park.
Elsewhere, 12 cases were documented in Da Nang city, seven in Dien Bien, six in Ha Nam, three in Hanoi and two in Hai Duong.
Vietnam has confirmed 1,139 community infections in 26 cities and provinces nationwide since the virus recurred in late April 2021.
Bac Giang takes the lead with 314 cases, followed by Bac Ninh (265), Hanoi (224, mostly at two centrally-run hospitals) and Da Nang (125).
The Ministry of Health has sent a contingent of professionals to help Bac Giang with contact tracing and extensive testing.
Bac Giang has also called for assistance from other localities, including Hai Duong and Quang Ninh.
Big outbreaks linked to the group of Chinese experts, at the National Hospital for Tropical Diseases, the K Cancer Hospital, and in Ha Nam have been brought under control.
However, outbreaks at six industrial parks in Da Nang, Bac Ninh and Bac Giang remain complicated.
VOV

All three facilities of Vietnam's National Cancer Hospital, also known as K Hospital, in Hanoi were put under lockdown from 5:30am on May 7, after 10 COVID-19 infections were recorded in the hospital's Tan Trieu facility.
Bac Giang has recorded more than 314 for the past few days and the figure is expected to keep rising in the coming days.