Coronavirus: Vinh Phuc's three-month-old baby in stable health condition

A three-month-old girl in the northern province of Vinh Phuc Province who has been infected with coronavirus is now in a stable health condition.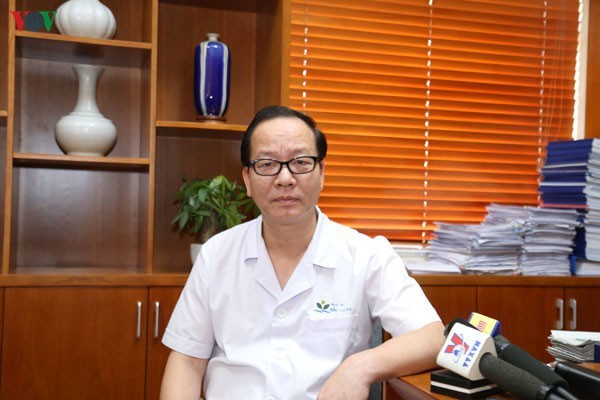 Associate. Prof. Trinh Minh Dien, deputy director of National Children's Hospital in Hanoi
The baby is a grandchild of one of the infected patients in Vinh Phuc who tested positive for the coronavirus on February 6 after having a cough but not a fever.
Since February 11, she has been isolated at a special room at the National Children's Hospital in Hanoi.
According to Associate. Prof. Trinh Minh Dien, the hospital deputy director, her heath is now stable without coughing and having a fever. She can eat quite well.   
The hospital has arranged two doctors and two nurses to take turns for taking care of the baby and her mother. The doctors and nurses are also isolated.
"We have tried our best to prevent the possible infection of other people," Dien added.
On January 28, the infant was taken to her grandmother's house in the province's Binh Xuyen Town.
The woman had earlier contracted the infection from her 23-year-old cousin, one of eight workers who went to Wuhan City for work training last November and came back on January 17.
The Ministry of Health advises people to restrict their access to people with respiratory problems such as coughing, breathing difficulties and fever. People are urged to wear masks, keep hygiene and improve their immune system and go to hospital if they have any health problems.
Vietnam has to date confirmed 16 coronavirus cases, including 11 in Vinh Phuc Province.
Among the patients, seven have been discharged from hospital after recovering, consisting of three workers in Vinh Phuc, a woman in Thanh Hoa, a hotel employee in Nha Trang, and two Chinese men in HCM City.
VOV/Dtinews
A 50-year-old man in the northern province of Vinh Phuc has tested positive for the novel coronavirus, according to the health ministry.

A total of 65,213 cases of Covid-19 infection had been recorded globally as of 7:00 on February 14. The death toll had reached 1,486, with 1,483 in mainland China, and three recorded outside mainland China.