Comprehensive approach needed in fight against drugs

Director of the Ministry of Public Security's Investigation Police Department of Drug-related Crimes, Pham Van Cac, talks to Nhân Dân (People) newspaper about measures needed to fight drug crimes.
Vietnam upholds dangerous fight against drug crime
It's time for a relentless battle against drugs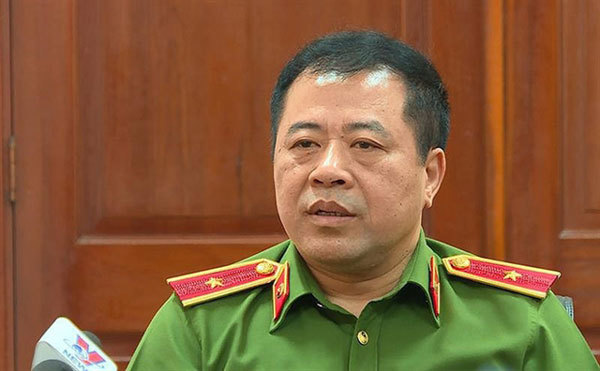 Director of the Ministry of Public Security's Investigation Police Department of Drug-related Crimes Pham Van Cac. Photo soha.vn
Police have busted a number of large trans-national drug cases, including cases in which tonnes of drugs were seized. Is this result attributable to changes in policies and measures?
The Investigation Police Department of Drug-related Crimes has directed all related forces to crack down on drug crimes at hot spots along the Viet Nam-Laos border, via sea routes and in northern-central localities and HCM City. In the biggest case, police seized over 1.1 tonnes of methamphetamine in HCM City in April.
The success was also attributed to effective cooperation and information exchange between police and related forces of Vietnam and other countries. We are allowed to exchange information directly via telephone with our partners in other countries and we have discovered and busted many big cases thanks to information from crime fighters in other countries. Highly appreciating Vietnam's efforts and determination in the fight against drug crimes, other countries are willing and enthusiastic to coordinate with Vietnam.
Drug trafficking and use have become a global problem, and trans-national drug crimes require close cooperation among countries.
In 2002, the Prime Minister issued a Decision on cooperation mechanisms between police, border guard, coast guard and customs in the fight against drug crimes at borders, border gates and sea areas. How will these forces cooperate to increase efficiency in drug crime prevention and control in the future?
These four key forces have cooperated effectively in creating a "steel fist" to combat drug crimes, which is evident through the tackling of many big drug trafficking rings.
In 2018, the department, in cooperation with relevant forces, busted 163 drug cases, arresting 364 offenders. In early 2019, we cracked down on many big trans-national drug trafficking rings, seizing over three tonnes of drugs and prosecuted hundreds of drug traffickers.
However, loose cooperation among these forces was still a problem.
It is necessary to build a strong "barrier" along the border to prevent drugs entering the country, at which the district-level forces will act as a key force with local authorities and police bearing the main responsibilities.
More than 225,000 drug addicts are reported nationwide. Does that number put pressure on the fight against drug crimes?
The real number of drug addicts is higher. Drug addicts and their families often do not want to be publicised. Some localities also failed to report the accurate number of drug addicts in order to meet new rural style standards.
If there are no drug addicts, no one will buy drugs. However, when there are a large number of drug addicts, the supply sources will increase.
It is necessary to change the mindset in drug prevention and control. We cannot win the fight if we just focus on attacking the supply as we cannot arrest all drug manufacturers. So we also need to find measures to reduce demand for drugs. The department has proposed criteria to reach more accurate statistics about the number of drug addicts nationwide to have more appropriate policies and solutions in drug prevention and control.
Raising public awareness of laws and the consequences of drug use is considered a key measure in drug prevention and control. Do you think that information dissemination has been effective enough?
Information dissemination is a key measure in drug prevention and control but shortcomings remain. Effective information dissemination will help many people stay alert and actively provide information to the police.
However, communication work is still spreading and lacks focus. It needs to be done more effectively to increase people's awareness of regulations and consequences of drug use, thus encouraging them to not use drugs and break the law as well as to actively participate in drug prevention and control activities.
More mobile courts for drug crimes should also be organised in localities to warn and educate people.
It is also crucial to promote socio-economic development and raising the living conditions for people, particularly vulnerable groups, to prevent them turning to crime.
Effective drug crime prevention and control also needs resolute direction from macro policies and guidelines. What do you think?
The Party and State always consider drugs a national issue and issued many legal documents guiding and mobilising the participation of the whole Politburo and the whole society to join hands in the fight against drug crimes.
It is necessary to review 10 years implementing the Politburo's Instruction No 21/CT-TW issued in 2008 guiding drug prevention and control tasks and issue a new directive with macro solutions and tasks to meet the current situation.
Amending related regulations to tackle shortcomings together with investing in modern equipment and devices for police and other forces are needed to help improve the efficiency of drug prevention and control.
It should also have supporting policies for the police who directly join the fight against drug crimes, particularly in difficult areas.
VNS