Children's social roles promoted through their council
A Children's Council gathers outstanding children to periodically express opinions, aspirations, exchange and hold dialogues with representatives of all-level People's Committees and People's Councils on child-related issues in localities.
Children are usually known as a vulnerable group in society but that is no longer true for those who are members of an effective children's organisation model which is now developing to promote their roles and help raise their voices in social activities.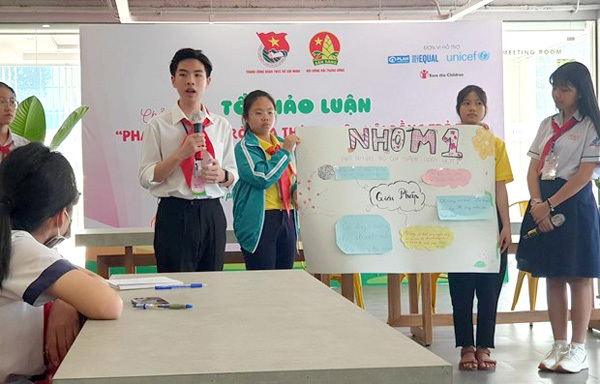 A student in HCM City gives a presentation on the role of the Children's Council model in promoting children's right to participation. 
The Children's Council model, an initiative of the Ho Chi Minh Young Pioneers (a national organisation for Vietnamese children) and formed by the Ho Chi Minh Communist Youth Union, is helping authorities and agencies understand aspirations and needs regarding the development of children.
A pupil in the Young Pioneer uniform stands up and raises his hand to offer strong opinions at a meeting with leaders from the local People's Committee.
This is common among members of a Children's Council when they hold periodic sessions with the leaders and representatives of local authorities.
Piloted for three years in the first five cities and provinces of Hanoi, HCM City, Yen Bai, Quang Ninh and Binh Dinh, the Children's Council model has also improved awareness among Government bodies, organisations, associations and society on the importance of child protection and education as well as the necessity of a forum for children to get involved in issues which relate to them.
Apart from the above five cities and provinces, more than 10 other localities including Lai Chau, Da Nang, Dong Nai, Ben Tre and Ca Mau have also joined the model.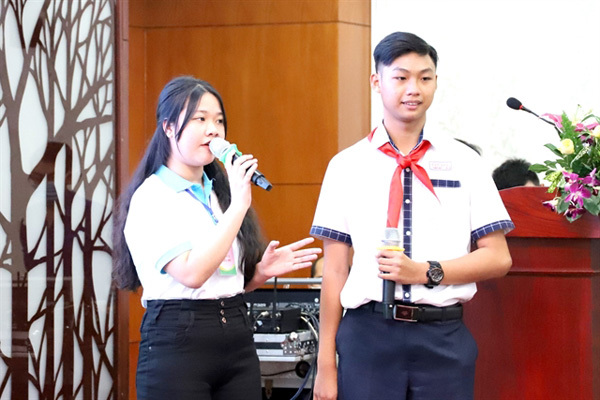 Two representatives from the Binh Dinh Province's Children Councils are contributing opinions at a conference in HCM City. V
A Children's Council gathers outstanding children to periodically express opinions, aspirations, exchange and hold dialogues with representatives of all-level People's Committees and People's Councils on child-related issues in localities.
Up to now, dozens of provincial and district Children's Councils have been established under the pilot programmes, according to a report from the central council of the Young Pioneers.
With two annual meetings, the Children's Councils at all levels have held 68 meetings with more than 1,000 children participating, the report said.
In order to get the opinions of many children, provinces and cities have arranged for council members to interact with local children in order to collect opinions and recommendations to send to meetings of the council.
For example, the provincial Youth Union and the Young Pioneers in Yen Bai held two volunteer programmes for members of the province's Children's Council in Mu Cang Chai District. During the programme, the unit contacted and collected more than 40 opinions of children in remote areas. 
In addition to regular meetings, many provinces and cities have held conferences, meetings and direct dialogues between the Children's Council and leaders of the provincial Party Committees and the provincial People's Councils.
Through the Children's Council, the Youth Union at all levels collected and forwarded more than 12,000 children's opinions to local authorities and more than 1,000 comments to relevant agencies for consideration and settlement.
A number of opinions and recommendations on mechanisms, policies and laws related to children are also collected by the provinces and cities and submitted to the National Assembly deputies and the Provincial People's Councils as basic details for their assigned tasks.
Nguyen Tra My, a sixth-grade student from a junior school in Dong Nai Province, a member of the provincial Children's Council, actively raised her voice in a meeting with authorities saying that ending the school year with a lot of pressure, hundreds of thousands of students were in need of relaxing summer holidays but the COVID-19 pandemic is hindering their entertainment.
"Children often eagerly await a summer vacation after months of study, but only those in urban areas are benefiting compared to rural and remote areas. Meanwhile, the pandemic is having impacts on our childhood as we now do not have adequate useful and safe places to play. It is even worse for those in such remote areas," My said.
Bui Tran Khanh Ngoc, a seventh-grade student from Truong Sa Junior School in Bien Hoa City, said that this year, due to the impact of the COVID-19 pandemic, the summer vacation time was not as long as before.
However, in order to have effective summer activities, he suggested authorities organise programmes to promote and raise awareness among society, especially parents, about the meaning and importance of summer activities.
He wanted parents, schools and authorities to regard a summer holiday as important as extracurricular thus it should be a focus of their concerns for children.
"More parents' awareness will help children have more opportunities to enjoy summer activities," he said.
With such opinions, the Children's Council is a really effective forum for children to speak up, express their wishes on their own issues, and help ministries, agencies, and local authorities make authentic decisions to solve problems, according to experts.
The Chairman of the Hanoi Council of the Ho Chi Minh Young Pioneers, Ly Duy Xuan, stressed that care, education and protection of children were for the sake of the country's long-term benefit and the State and people must work to create optimal conditions for their comprehensive development.
The Secretary of the Central Committee of the Youth Union and the HCM Young Pioneers Central Council Chairman, Nguyen Ngoc Luong, affirmed that the establishment of Children's Councils was an appropriate plan and it had achieved success when put into practice.
"Initially, only five provinces and cities were selected to pilot the model but now there are 14 provinces and cities joining. This result is nearly three times higher than the target," he said.
In order to improve the operational capacity of the Children's Council, in recent years, the HCM Young Pioneers Central Council and its city and provincial divisions have coordinated with NGOs to organise training courses for children who are members of the local councils.
Topics of the training courses held in Hanoi, HCM City, Da Nang and provinces of Lai Chau, Ha Giang, Quang Binh, Quang Tri and Kon Tum were focusing on helping children improve their personal skills as well as empowerment in social issues such as soft skills and skills in presentation, communication, leadership and child abuse prevention, according to the HCM Young Pioneers Central Council.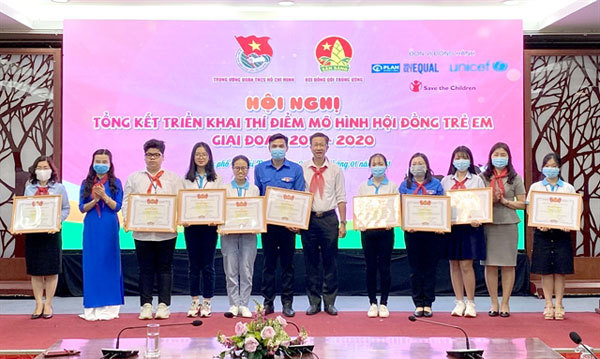 Individuals from across the country are praised for outstanding achievements in the Children's Council model in the past three years. 
In the future, the HCM Young Pioneers Central Council chairman appealed for the provinces and cities that have piloted the model to continue to raise the membership, focusing on the following in-depth and thematic contents related to social issues that are of interest to children; transferring good operation models from provincial to the grassroots level.
Since the Children's Council model was set up, more than 1,500 activities related to children have been held in localities, with the participation of more than 300,000 children and 2,000 opinions collected.
The number of children suffering domestic violence in localities has been halved, while those living in an environment without violence and abuse increased over 20 per cent, according to a report from the HCM Young Volunteers Central Council.
The model has served as an important information channel helping all-level Party committees, authorities and agencies devise child-related policies and guidelines.
VNS 

Internet users in Vietnam, especially children, face many risks online, according to experts.

The Government of Vietnam supports the Safe Schools Statement in order to join the international community to support and uphold the right to education of children in all cases.