Charity class makes dreams come true for needy children

On an area of 10 square metres in a narrow alley on Sai Gon riverbank is a special classroom which has operated for more than 20 years making literary dreams come true for many underprivileged children in the city.
Charity primary school serves underprivileged
Ten individuals, organizations honored for charity
Charity meals of Australian man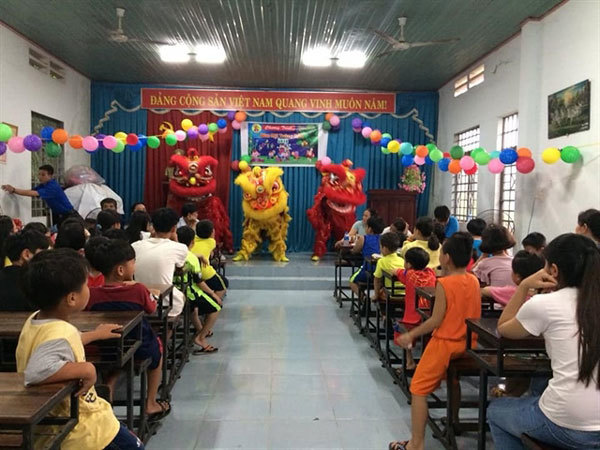 PUTTING ON A SHOW: Students at the Phú Mỹ Love Class enjoy a traditional dance on the opening day of the new school year. VNA/VNS Photo Huu Khoa
The class, affectionately called the 'Phú Mỹ Love Class', offers knowledge to about 30 children of different ages including orphans and those with autism or disabilities.
It is also a place for poor parents to access primary education. Most of them come from neighbouring provinces to work as temporary labourers in the area.
The founder of the class on Huynh Tan Phat Street in HCM City's District 7 – teacher Ngo Thi Manh Hoa – said with support from her daughter and soldiers from HCM City Border Guards, she had been able to keep the class going for more than two decades.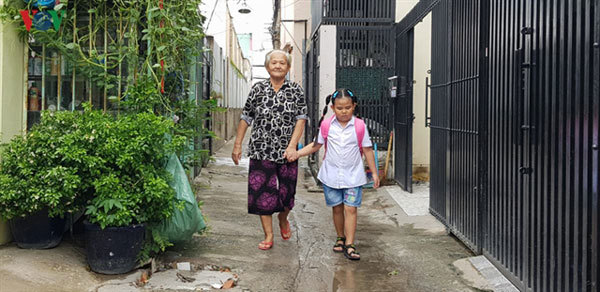 LOVE TO LEARN: Nguyen Ngoc Minh Thi, a six year old orphan is taken to the class by her grandmother.
Nguyen Ngoc Minh Thi, a six-year-old orphan, was first taken to the class by her grandmother last week.
This year is the first school year for the child and she is delighted to meet her new friends and teachers.
Her grandmother said Thi had lived with her since her father died four years ago and her mother remarried into a new family.
The child might never have had the chance to go to school if it weren't for the charity class, according to her grandmother.
The old woman revealed that at first, Thi was very shy but she quickly opened up after talking to teachers and classmates.
"Being able to go to school, wear a uniform, get new notebooks and especially have fun with friends of the same age provide the most joy for Thi now," the grandmother said.
For 21-year-old Truong Thi Quynh Nhu, a student with learning difficulties, this year marks her fourth attending Hoa's class.
"Nhu could not attend normal school due to her disabilities, so we tried to help her study at the Phú Mỹ Love Class," according to Như's father, Truong Van Lien.
Lien said his daughter could now read after four years of study.
The father was very happy to see his daughter's progress day by day. He expressed appreciation and gratitude to the teachers who, he said, were very enthusiastic and dedicated to teaching such underprivileged children.
"The love and patience of the teachers have helped my child learn how to read. Now she knows, she is so fond of study that she is willing to come to the class and vows not to take a day off," Lien said.
Unlike normal school, Phú Mỹ opens earlier so that teachers have time to organise their lessons and seek donations of books and clothes for the children.
There's good news this year as the class has managed to get hold of a larger space, as well as new chairs, desks and notebooks.
The support has come from the city's border guard leaders, local authorities and donors.
Major Vu Truong Tinh, an officer from HCM City Border Guards who has also worked as a volunteer teacher for many years, said he and his colleagues were asking local authorities and the education office of the city's District 7 to continue caring for the children to help them attend higher education at junior and high schools.
Along with such support, the love of donors, volunteers' willingness and teachers' enthusiasm have contributed to sharing the hardship and will motivate the students to move on with their new school year.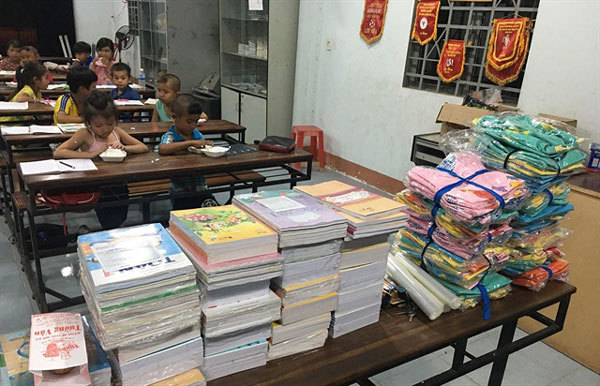 CHANCE TO LEARN: Donations of notebooks and other school supplies ready for children at the Phú Mỹ Love Class. VNA/VNS Photo Huu Khoa
The Phú Mỹ Love Class is a good example of a programme boosting support and care for underprivileged children in the city.
HCM City is striving to build an environment in which all children can reach their full potential, particularly those most in need, according to the city's standing board of child protection and care.
It has called on the private sector and community to ensure protection for children, especially those who are disadvantaged.
VNS