Chairman of Phan Thiet City arrested for land mismanagement

Tran Hoang Khoi, vice chairman of the People's Committee of Phan Thiet City in the south-central coastal province of Binh Thuan, has been detained on the charge of land mismanagement.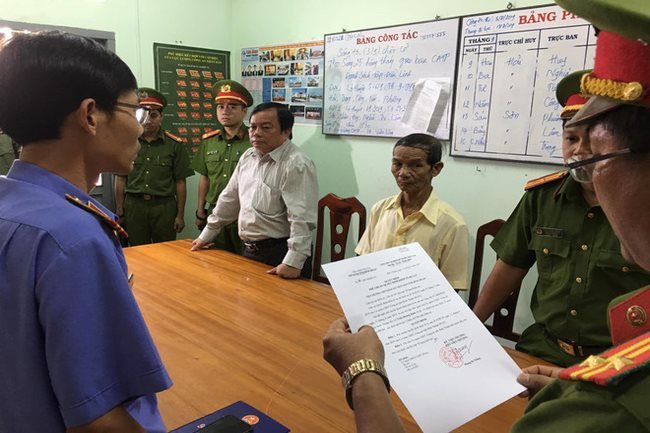 An investigator reads out a decision to prosecute and arrest the 50-year-old Tran Hoang Khoi (, standing, in white shirt), vice chairman of Phan Thiet City, for land mismanagement on September 12 – PHOTO: TNO
The investigative police agency with the provincial police department today, September 12, initiated legal proceedings against the 50-year-old Khoi for violating regulations on land management, based on Article 229 of the 2015 Penal Code.
Investigators raided his house and workplace to collect additional evidence, according to local media reports.
Two of his subordinates – Pham Thanh Thai, head of the city's division of natural resources and environment, and Le Hoang Anh Tan, an official of the division – were charged with the same offence, which is punishable by five to 12 years' imprisonment.
An initial inquiry revealed that the vice chairman, Khoi, had signed unlawful decisions approving the conversion of agricultural to housing land in rural areas.
Earlier, inspectors from Binh Thuan Province sent the case file to the provincial police to determine whether charges could be brought for violations of laws on land management and the abuse of position and power while on duty.
Between early 2016 and September 2018, the government of Phan Thiet City approved the land use conversion for 160 plots of land measuring more than 190,000 square meters in three rural communes: Thien Nghiep, Tien Loi and Phong Nam.
This approval went against the city's land use plan for the 2011-2020 period and the province's land use plan for the 2011-2015 period.
The municipal government also illegally changed the use purpose of 139 plots of land totaling over 176,000 square meters from agricultural land to rural housing land.
Inspectors found that local authorities had intentionally and arbitrarily breached regulations on determining the area and locations of land plots and on land use purposes before applying land use conversion.
Such moves have enabled a number of individuals to divide their farmland for sale as housing land, which resulted in disruptions to land and construction plans and losses for the State budget.
For example, inspectors initially checked only five cases of land use conversion and found a total loss of more than VND5.7 billion (US$245,000) for the State.
Chairman Khoi told Dau Tu Tai Chinh Online newspaper in April this year that the sharp increase in local land prices was being caused by speculators spreading rumors of a possible airport project in Thien Nghiep Commune. Speculators had tried to inflate land prices, creating a price bubble and severely affecting the lives of the locals. SGT