Canna vermicelli producers busy as Tet nears
With the Tet (Lunar New Year) holidays fast approaching, households that produce miến dong (canna vermicelli) in the northern mountainous province of Lai Chau are hustling to finish orders from their customers.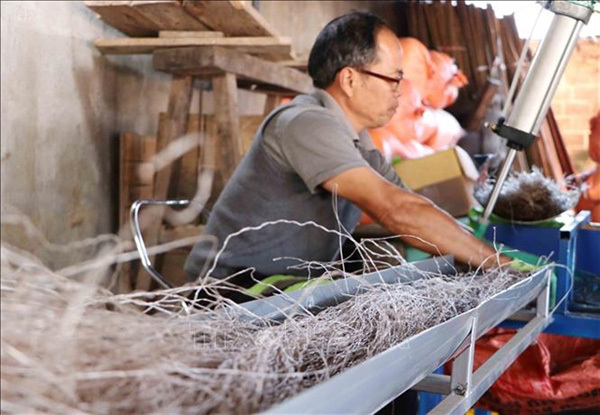 Canna vermicelli is cut before packaging in Binh Lu Commune, the northern mountainous province of Lai Chau. —VNA/VNS Photo Nguyen Oanh
Bui Thi Hong Thu, of Thong Nhat Village, Binh Lu Commune, said she had to hire two seasonal workers to help her family fulfill their canna vermicelli orders on time.
Thu said that her family currently had 240 bamboo sheets to dry canna vermicelli. Normally, she and her husband produced 70-80 kilos of canna vermicelli each day.
However, in the days near Tet, they had to produce 150-200 kilos daily due to high demand, she said.
Thu said although there was nearly a month left until Tet, her family already stopped receiving more orders from customers because they did not have time to finish them.
Nguyen Ngoc Anh, another producer in Binh Lu Commune, said he had made canna vermicelli for decades.
Anh said he and his wife produced canna vermicelli year-round, but they were the busiest at the end of each lunar year.
The couple makes about 90 kilos of canna vermicelli daily, he said.
It costs about VND50,000-60,000 (US$2.1-2.6) per kilo of canna vermicelli.
Anh said his family earned about VND200 million ($8,650) from producing canna vermicelli in 2020.
Normally, there are 30 canna vermicelli producers in Binh Lu Commune, however, at the end of each year, up to 80 households get involved in the trade. The three months leading up to Tet is the busiest time for the canna vermicelli producers in the commune.
They often have to run at full capacity to fulfill orders from all around the country.
Local residents started to produce canna vermicelli in the 1970s but sold only within the province at that time. Since the 2000s, canna vermicelli has been traded not only in the province but throughout the country and then became a local speciality of Lai Chau.
The canna vermicelli is completely made of the roots of Canna edulis Ker – Gawl, without other powders nor chemicals for bleaching.
Canna vermicelli is sun-dried on bamboo sheets to prevent it becoming brittle or broken. After being sun-dried, the vermicelli has a greyish colour and when cooked it is soft, chewy and delicious.
It takes a lot of steps to make canna vermicelli. The producers have to take the roots of Canna edulis Ker – Gawl, grind them into flour, filter the flour to remove impurities, cook flour and put into a mould then cut it into strips to dry under the sunlight. All the steps require meticulousness, perseverance and ingenuity.
Lo Van Thang, deputy chairman of the People's Committee of the commune, said the provincial administration had recognised two villages of the communes specialising in producing canna vermicelli in 2014.
The whole commune now has 125 households planting Canna edulis Ker – Gawl and 80 households producing canna vermicelli, he said.
The commune's producers sell a total of 170 tonnes of canna vermicelli to the market each year, earning about VND7 billion ($303,000), he said.
The income of the local producers in the commune was stable and quality of life was improving day by day, he added.
The commune administration plans to persuade more households to shift from growing rice with low yield to growing Canna edulis Ker – Gawl to prepare more materials for producing canna vermicelli, he said.
Nguyen Hong Son, deputy director of the Agriculture and Rural Development Office of Tam Duong District, said canna vermicelli from the commune had recently been recognised by the provincial People's Committee as one of 47 OCOP (one product per commune programme) products of the province.
The office will consult the district People's Committee to develop the brand of Binh Lu Commune's canna vermicelli and increase the promotion of the product on mass media. VNS

Nguyen Van Chi, director of Hanoi Department for Agriculture and Rural Development, talks on what the city has been doing to meet the objectives laid down by municipal city authorities in the programme 'One Commune One Product'  

Cu Da vermicelli village in Hanoi is famous for both ancient French-style houses and a long tradition of making vermicelli.